Bay Cities Celebrates Earth Day Every Day with Sustainable Packaging Solutions
Posted on Tuesday, April 18th, 2017
Bay Cities Celebrates Earth Day Every Day!
Did you know that Americans celebrated the first Earth Day in 1970? 47 years later, we're still as cognizant of our ecological problems as ever, and we're learning how to combat them in many ways.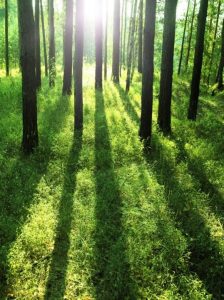 Bay Cities is doing its part to promote a healthier, safer environment through a variety of initiatives dedicated to providing quality work with less risk to the ecosystem. Sounds counter-intuitive right? But the corrugated cardboard industry is one of the most sustainable industries in the world. In fact, for every tree that is harvested, Bay Cities plants 7 more!

Bay Cities not only operates in an innovative and creative manner, but our company works tirelessly to create eco-friendly processes and products—from packaging to its equipment—for a sustainable environment.
How are we doing this?
Our state-of-the-art die-cutting equipment captures any scrap corrugate and carries it to a central location that is later picked up to be reused for another package or display project. Did you know corrugate can be reused up to 7 times before it begins to lose it's structural integrity? We are constantly reusing our scrap pieces to create sustainable projects for you!
In addition, we own our own corrugater that is connected to and powered by a local paper mill, giving you peace-of-mind knowing we are producing high-quality, sustainable paper.
Combining this technology with our sustainable packing practices means that you, our valued clients, receive the best quality products and the safest for the environment as possible. Take into account that 50% of consumers consider one or more sustainability factors when shopping for products, and Bay Cities has our clients covered.
Our eco-conscious production processes continue to lead the way in the industry, and are an important part of the products and services offered. Not only are we utilizing sustainable materials and are members of sustainable organizations, but we have a lot of initiatives internally. For instance, we have designed recycling bins that have been placed throughout the facility, and reuse scrap paper by turning them into "Bay Notepads". We have even developed a sustainable packaging method that uses cold seal technology, and is 100% recyclable with an 85% reduction in plastic with a decrease in energy consumption.
We take sustainability very seriously. It's evident in our words, our actions, and the top-quality products we produce.
For more information on Bay Cities, our advanced technologies, and our sustainability practices, contact us at 562-551-2904 or katiec@bay-cities.com.