Interactive Packaging through Augmented Reality
Posted on Tuesday, April 18th, 2017
Reaching Consumers where they Already Are- on their Mobile Devices through Interactive Packaging
According to SmartInsights, mobile users spent 90% of their time on their devices in their applications last year. That is a significant amount of time people spent playing games, reading the news or using social media. What if a portion of that time was spent exploring your brand? Interactive packaging connects consumers' mobile devices to an enhanced brand experience, so you can better market your brand amidst the growing mobile frenzy.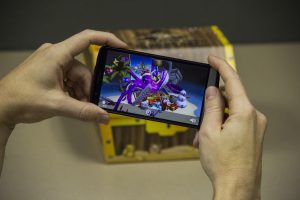 Bay Cities, a leader in the packaging and display industry, is on the cutting edge of interactive packaging. We continue to lead the way by developing new methods for consumers to interact with brands at the point-of-purchase.

Interactive packaging incorporates Augmented Reality (AR) into a brand's retail packaging. According to Merriam-Webster, augmented reality is an enhanced version of reality created by the use of technology to overlay digital information on an image of something being viewed through a device. This technology can be a game-changer for retail promotion. Why not take advantage of consumers' mobile-use habits and inform them of your brand?
If you are still not convinced of AR's potential, here are some ways you can use interactive packaging:
Advanced Consumer Engagement – Direct a consumer to download your brand's mobile app, point their mobile device to your package, and experience the message you want to communicate.
3-D Product Assembly Instructions – Provide 3-D examples and directions through a consumer's mobile device. No more overwhelming print-out instructions!
Pre-Purchase Demonstrations – Enhance your marketing techniques with interactive previews before your customers even purchase the product or open the package. With AR, your more skeptical customers can easily test out the product before committing to a purchase.
Targeted Path to Purchase Solutions – Navigate a shopper in stores through in-app games and treasure hunts. These interactive apps enhance the in-store experience for your customers. AR games are especially impactful if your brand is targeting young audiences or millennials.
Virtual Product Samples – Allow customers to virtually view products without requiring more space to display demos of your product. Customers can see examples of your product anywhere in the store space without having to open the retail package.
Bay Cities has demoed several products using AR technology. The exciting results have opened a new platform for integrating mobile use with advertising. To check out the work we have done so far, simply download the Bay Cities app in Google Play or the iTunes Store to enjoy the full experience.
For more information about how we can bring your brand to life through augmented reality, contact us today. Be sure to ask us to see our Augmented Reality Demo Video to see some examples of our work!