Know Your Brew (and Packaging too)!
While some will argue that the peak has been reached, others are predicting the craft beer industry to grow 14.1% over the next 5 years.While some will argue that the peak has been reached, others are predicting the craft beer industry to grow 14.1% over the next 5 years. The Brewers Association showed that there has been a 5% rise in craft beer production in 2017. Craft beer experts were not surprised to learn that there was a 2.6% closing rate in breweries across the United States as the industry is maturing. In 2017, small and independent brewers represented nearly 13% of the market share by volume of the overall beer industry and produced 25.4 million barrels creating an estimated retail value of $26 billion.
Like many other industries today, independence is a common trend throughout craft brewers. More than 3,100 craft brewers have adopted the new independent craft brewer seal, which the BA rolled out in summer 2017. As more breweries sign on to the use the logo – an upside-down beer bottle – you're beginning to see it more often on beer packaging, labels, merchandise and even menus.
Packaging
Packaging is a vital piece to the success of any brand. This could not be truer in the craft beer market. Being in a highly competitive market like craft beer means staying up to date with packaging and marketing trends is more important than ever. Your brand will need that final chance to visually convey its message and stand out to the customer, so you will be the one picked instead of your competition. Along with shelf presence, packaging also serves the purpose of protecting the precious cargo inside. This is especially critical for businesses who bottle and can their own product. Poor packaging can result in damaged product, lost cargo, dissatisfied customers, and diminished profits.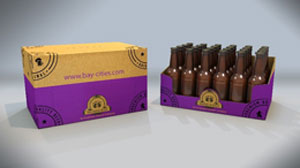 Transport
Regardless of whether your brew is being transported by car, carrier, or will be mass palletized, the method of transport will play a deciding role in how your packaging is planned and designed. Items like board grade, material, and stacking arrangements are all taken into consideration. When determining how to give your boxes the appropriate strength and cargo protection, you will need to consider the conditions the package will go through during its lifetime. Structural design with attention to detail will ensure that the package will protect your brew from factors like dropping, moisture, and rough environmental conditions.
Print
There is a vast array of print options available, which will each deliver quality and finish pending your preferences. Lithographic printing has a reputation for producing detailed printed packaging at a high standard. It allows for many different types of print finishes such as soft touch, foil stamping, and UV varnishing. If you are looking for a more cost-effective, less detailed print, flexographic printing will give you a natural-looking ink job. Nowadays there are flexography machines that can print, and die cut in the same pass, saving production time. Digital printing is the latest print technology, now being used as the go-to choice for top notch printing, to create personalized and customized packaging. Digital printing allows for quick and easy packaging updates, facilitates augmented reality, creates high impact colors, and is fast and cost effective.
The best examples of craft beer packaging come from companies that put genuine thought and care into the consumer's experience. They can combine the printing and structure of the package with your brand's image and values. Why be like the rest? Let your craft beer stand out from the crowd.