Bay Cities COVID-19 Updates 05/06/2020
May 6, 2020
While the whole economy slowed down the last several weeks, we have taken the time as a company to prioritize initiatives to come out of this time better than before. As such we identified several areas to focus on:
Training and Development. We are taking the time to update all our training materials and increase personnel training. We are improving our internal training and are expanding that significantly to cross department training. In addition, we launched several projects to do a better job at training and informing you, our customer. We truly believe that by everyone being as well informed and trained about our products, services, and processes, as possible, we will be better as a company and be better to serve you.
Processes and procedures. We are re-evaluating all our processes and procedures to make them easier to follow, to simplify these where possible, to put better quality controls in place and easier and more efficient ways to escalate. Our teams have been working on this intensively and are the owners of this. We are now in the latest stages of implementation.
Re-organization of our office spaces. We know that many departments can work from home and can do that very well. We are going to use the coming weeks to re-organize how we will work in the future and what our office needs will be on-site.
Spring cleaning and remodeling. We have taken on projects to improve our plant areas, do some 'spring' cleaning and make more efficient use of our storage spaces. While we continuously look into these areas, taking on some of these projects completely in-house during this time is very rewarding for everyone.
It's great to see us come together as a company to make all these initiatives work, while we are each dealing with day-to-day job challenges as well as newly added personal challenges.
Stay positive. There is light shining through, and we will come out from under the darkness soon. Wash your hands, wear your mask and be safe!
Keep it separated.
We are here for you.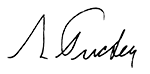 Greg Tucker
CEO