Bay Cities Donates to Pico Rivera's Christmas Baskets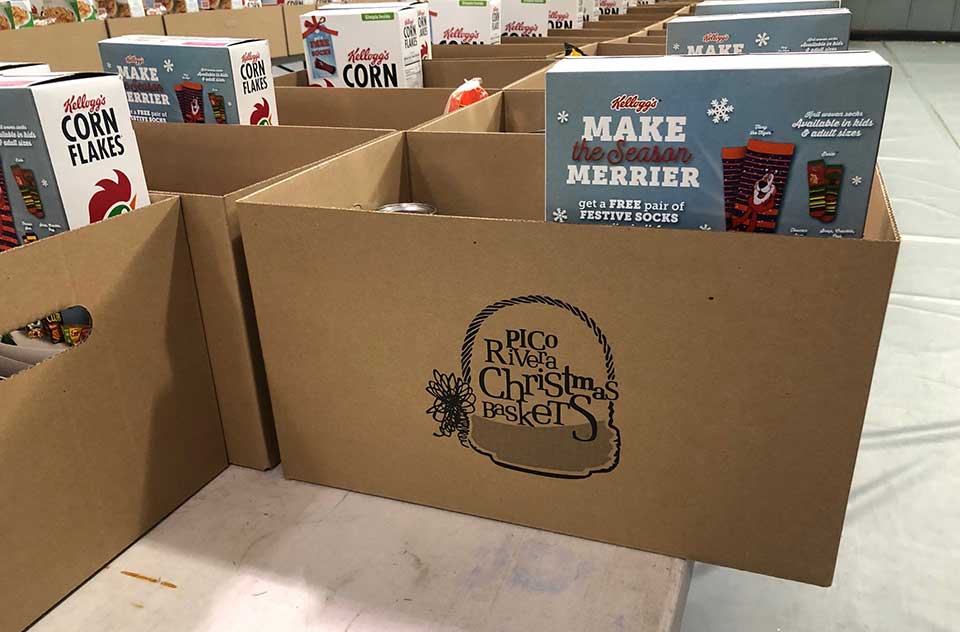 NEWS RELEASE
FOR IMMEDIATE RELEASE
For more information, contact us.
Bay Cities Donates to Pico Rivera's Christmas Baskets
An Annual Tradition for Bay Cities
PICO RIVERA, CA, Dec. 10, 2018: Bay Cities, North America's most innovative packaging and design company, joined in a successful event to help the community of Pico Rivera with the Annual Christmas Baskets for the Needy held at Pico Park Community Center on December 8th.
Bay Cities donated over 1,000 boxes to be filled with treats and dishes for Christmas dinner for needy families and the elderly throughout the Pico Rivera community. Our ESOP (Employee Stock Ownership Plan) committee and other employee volunteers helped coordinate donations and delivery. Volunteers assisted in the distribution of baskets, sorting of food, registration and check-in, toy distribution, and crowd control. Bay Cities employees spoke with organizers about the turnout of high school volunteers and noted how happy recipients were picking up their toys and baskets.
The event began at 8 AM with a kick-off presentation at Pico Park. From there the families were ushered inside to pick up their assigned box and basket. Families picking up the boxes were required to show proof of residence in Pico Rivera as well as appropriate paperwork for their children. The day concluded at 2 PM.
The Christmas Baskets for the Needy started over 25 years ago. The event now helps more than 1,100 families every year. Other events they sponsor throughout the year include Stamp Out Hunger, a nation-wide initiative with the United States Post Office, and Trick-o-Treat, where non-perishable goods are collected for needy families.
Bay Cities has provided boxes and assistance with this event for the past 20 years.
###
About Bay Cities
Bay Cities is North America's most innovative packaging and design company, providing integrated, end-to-end packaging and logistics solutions that are proven to drive sales, both on-shelf and online. Powered by technology and the best people, Bay Cities works seamlessly with brands and retailers to design and deliver product packaging and in-store display programs with ease and accuracy. Visit us at Bay-Cities.com.