Bay Cities Expands Industrial Packaging Portfolio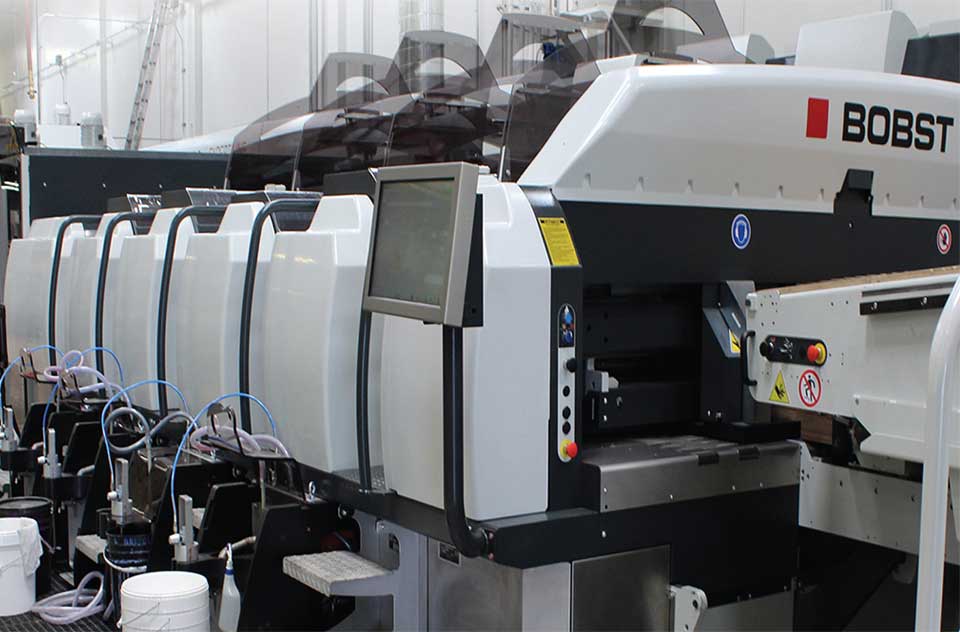 NEWS RELEASE
FOR IMMEDIATE RELEASE
For more information, contact us.
Bay Cities Expands Industrial Packaging Portfolio
Bobst 8.20 Installation Completed
Pico Rivera, CA: With the installation of the Bobst 8.20 completed, Bay Cities has expanded its Industrial Packaging portfolio significantly. Core products Bay Cities is now offering are Regular Slotted Container (RSC) boxes and Retail Ready Packaging. The investment in the Bobst 8.20 compliments Bay Cities investment in the state-of-the-art sheet feeder ENCORR. ENCORR is considered to be one of the most efficient, lowest carbon footprint manufacturer's of custom sized corrugated sheets on the West Coast. Sheets from ENCORR are used to feed the Bobst 8.20.
The Bobst 8.20 is a flexo-folder-gluer with 4 colors and in-line die cutting, which can produce up to 24,000 boxes/hour. With the installation of the Bobst 8.20, Bay Cities is now able to offer customers:
• Time and cost-effective Industrial Packaging solutions
• Short turn-around times and the ability to quickly act on rush orders
• Just-in-Time management. Customers no longer will need to order large quantities and store on site.
"We are strongly committed to making lives for our customers as easy and efficient as possible. With the new Bobst 8.20, we will be able to not only offer different industrial packaging styles, we can deliver it quick and cost-effective." said Greg Tucker, CEO / President of Bay Cities.
Customers interested in seeing the new Bobst 8.20, are welcome to visit Bay Cities and can view the installation process on-line https://www.youtube.com/channel/UCfPuCGsozrSSB4ojXAJ2Zbw.
Bay Cities' industrial packaging offerings include design, transit testing (ISTA) for logistics success, reduction of material content and speed to market. Industrial packaging already offered by Bay Cities are die-cut items, specialty gluing and laminating.
###
About Bay Cities
Bay Cities is North America's most innovative packaging and design company, providing integrated, end-to-end packaging and logistics solutions that are proven to drive sales, both on-shelf and online. Powered by technology and the best people, Bay Cities works seamlessly with brands and retailers to design and deliver product packaging and in-store display programs with ease and accuracy. Visit us at Bay-Cities.com.