Bay Cities Expands Product Offerings with Permanent Displays and Signage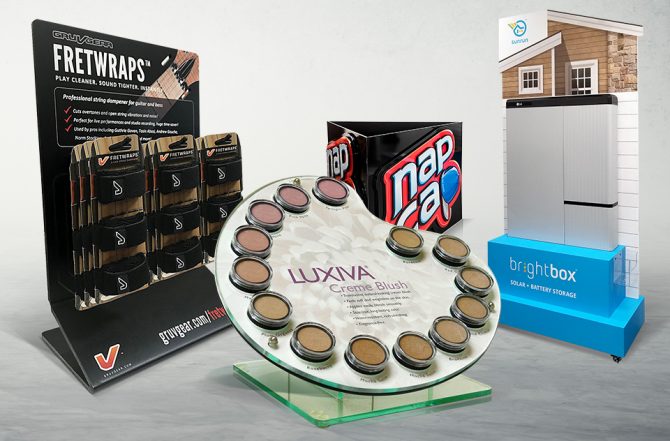 NEWS RELEASE
FOR IMMEDIATE RELEASE
For more information, contact us.
Bay Cities Expands Product Offerings
New Expansion Includes Permanent Displays and Signage
Pico Rivera, CA: May 9, 2019: Bay Cities, North America's most innovative packaging and design company today announces an expansion of product offerings with permanent Point-of-Purchase (POP) displays and signage. This expansion reflects the strength and direction of the company and its commitment to innovation as a POP industry leader.
For more than 60 years, Bay Cities has been the leading creative packaging and display partner to brand marketers, retailers and e-commerce companies. Bay Cities continues to evolve to meet the needs of its customers with new products and services. The new materials and product offerings will enrich Bay Cities' customers' options for product and shopper marketing.
Bay Cities has installed six new equipment pieces to manufacture the new product offerings. These machines include a foam and composite material cutter, a hybrid flatbed/ roll-fed printer, which can print on materials up to two inches thick, a sample maker and an additional Zund cutter.
"We are incorporating innovative materials and new offerings to move products and drive sales for our customers," said Greg Tucker, CEO of Bay Cities. "This expansion of our product lines shows our commitment to enhanced service, continued innovation and growth for our clients."
Bay Cities will be introducing new materials such as acrylic, vinyl, styrene, UltraBoard, foam core, and PVC for permanent, semi-permanent, and temporary signage and displays. Signage applications include wall décor, window graphics, menu boards, and banners. A variety of displays can incorporate single or mixed materials. Signage and display products can be featured in convenience and grocery stores, restaurants and retailers.
To learn more about our offerings, contact us.
Sign up for our newsletter to stay up-to-date.
###
About Bay Cities
Bay Cities is North America's most innovative packaging and design company, providing integrated, end-to-end packaging and logistics solutions that are proven to drive sales , both on-shelf and online. Powered by technology and the best people, Bay Cities works seamlessly with brands and retailers to design and deliver product packaging and in-store display programs with ease and accuracy. Visit us at Bay-Cities.com.