Bay Cities Gears up for PRINTING United with Mako-Board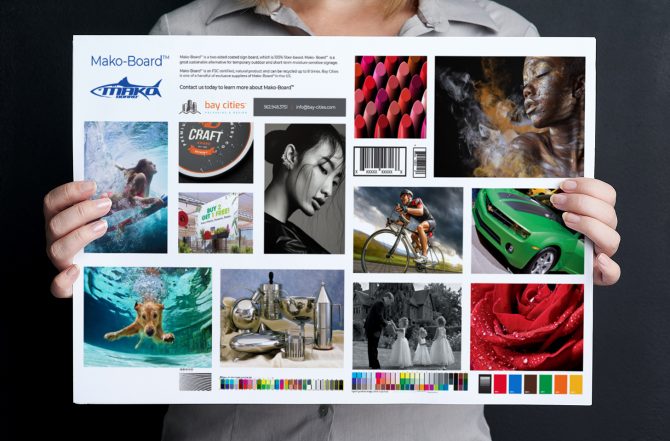 NEWS RELEASE
FOR IMMEDIATE RELEASE
For more information, contact us.
Mako-Board™ awarded SGIA Product of the Year
PICO RIVERA, CA, Oct. 16, 2019: Joining Mako-Board™, winner of the 2019 SGIA Product of the Year award, Bay Cities will participate at PRINTING United, a supersized offshoot of the SGIA Expo that offers over 720,000-square feet of exhibit space showcasing print technologies. Organizers are touting the inaugural PRINTING United event to be held in Dallas, TX from October 23-25, 2019 as the biggest print-focused event in the United States.
Mako-Board™ will present a beach-themed exhibit at Booth 12453, located at Exhibit Hall – Commercial & Packing to house all North American Mako-Board distributors.
Bay Cities designed and produced the Mako-Board™ exhibit that includes signage – the primary use of Mako-Board™ — as well as a Tiki bar and palm trees.
On Thursday, October 24th from 1-5PM Mako-Board™ will host an open bar reception at its in-booth Tiki bar where Mako-Board™ bar mats and drink coasters will demonstrate the product's durability, strength and water resistance and attendees will have an opportunity to win a Visa gift card.
Mako-Board™ is the only 100% recyclable outdoor-rated paper board that is a sustainable replacement for temporary signage, which has been dominated until now by plastic substrates due to weather durability issues.
Building on the popularity of SGIA Expo, PRINTING United is a new trade show concept specifically focused on convergence opportunities. The expanded exhibition venue will allow vendors to showcase comprehensive displays of printing technologies, supplies, education, programming and services. More than 600 exhibitors will display new equipment and share innovative ideas and opportunities – a window to the future of the printing industry.
"Mako-Board™ is a groundbreaking development and delivers on sustainability and performance. We are excited that SGIA recognizes the possibilities of this substrate and look forward to showcase this to many," said Nanneke Dinklo, Sr. Director, Marketing & Branding. She continued, "We're always on the lookout to provide our customers with latest technologies as soon as they become available such as the fantastic Mako-Board™ substrate."
To learn more about Bay Cities please, contact us.
Sign up for our newsletter to stay up-to-date.
###
About Bay Cities
Bay Cities is North America's most innovative packaging and design company, providing integrated, end-to-end packaging and logistics solutions that are proven to drive sales, both on-shelf and online. Powered by technology and the best people, Bay Cities works seamlessly with brands and retailers to design and deliver product packaging and in-store display programs with ease and accuracy.
###
Visit us at Bay-Cities.com.