Bay Cities is Out in Full Force during Career Fair Season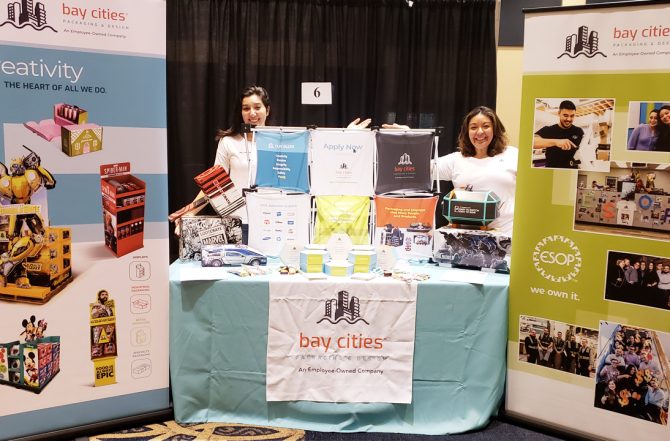 Bay Cities knows that at the core of its success is a strong, dedicated workforce that has a vested interest in making every day on the job count. The good news is that as an ESOP – an employee-owned company – each member of every department and team knows that they are working for their own personal advancement and for the greater good of the entire company. This makes coming to work every morning enjoyable, and propels team members to give their 100%
Bay Cities' Human Resources knows that building a company isn't easy. It can be challenging to build a company of employees with top notch character and talent. Our HR team embraces the opportunity to meet with newly graduating young adults who are eager to get moving on their careers and lives – ready to make their own personal impact.
At our company, employee selection is a very critical mission in that each new employee impacts the lives of the rest of our employee-owners. Our HR department reports that specialized experience may be an added benefit, however, the key attributes that make a new graduate attractive to Bay Cities include passion and attitude. Where skills can be attained, passion and attitude are innate personality traits.
Career fair season kicks off on February 25th with a trip to Cal Poly San Luis Obispo, March 4th at Cal State Long Beach, March 5 at Cal Poly Pomona, March 10th at the University of Arkansas and ends on May 6th at Cal state Fullerton.
Prospective Bay Cities employees don't need to have attended any of those schools to apply for an internship. College students approaching the completion of their studies are urged to check out regular fulltime positions and internships on our website www.bay-cities.com/careers.
Bay Cities offers an exceptional internship program. HR likes to refer to it as our minor league team. It provides college juniors and seniors an opportunity to be an intern in either Structure, Graphic Design, Marketing, Human Resources, Operations or other departments in order to acquire a technical foundation of skill and get to see what it's like to collaborate with the Bay Cities team.