Bay Cities Launches Brand-New Website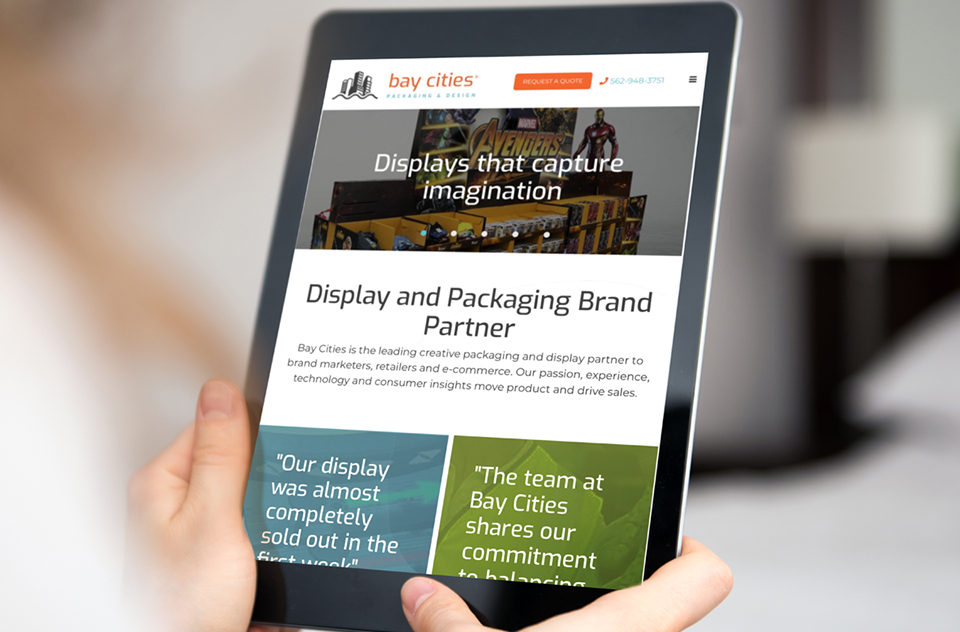 NEWS RELEASE
FOR IMMEDIATE RELEASE
For more information, contact us.
Bay Cities Launches Brand-New Website
New Website Displays Bay Cities' Updated Brand Identity and Continued Growth
PICO RIVERA, CA, Jan. 10, 2019: Bay Cities, North America's most innovative packaging and design company, today announces the launch of a new website. The new website reflects the updated brand identity and the growth of the company as the leading corrugated packaging and POP display partner. 

For more than 60 years, Bay Cities has been the leading creative corrugated packaging and POP display partner to brand marketers, retailers and e-commerce. As Bay Cities evolved, the need for a more impactful digital footprint, including a new, updated website, grew to align the digital platform closely to the brand and future offerings.

"We are thrilled to have a new website that offers a clean lay out and navigation structure, incorporates our award-winning creative work and innovations and, most importantly, allows customers to reach us with ease," says Nanneke Dinklo, Sr. Director, Marketing & Branding.

The development of the new site began in 2018 to be rolled out as part of the new branding. The new site features intuitive navigation, updated messaging and structured content to assist customers in clearly understanding Bay Cities' products and services. The new site is part of Bay Cities' commitment to excellence for customers and partners. 

The new site is fully responsive and can be accessed through a multitude of devices, including mobile. The user experience (UX) was an important part of the development of the site. The site will continue to expand with new product and service offerings, and fresh, new educational content such as blogs.

Visitors can check out the new website and sign up for the brand-new Newsletter by visiting bay-cities.com.
###
About Bay Cities
Bay Cities is North America's most innovative packaging and design company, providing integrated, end-to-end packaging and logistics solutions that are proven to drive sales, both on-shelf and online. Powered by technology and the best people, Bay Cities works seamlessly with brands and retailers to design and deliver product packaging and in-store display programs with ease and accuracy. Visit us at Bay-Cities.com.