Bay Cities Launches Success Stories Landing Page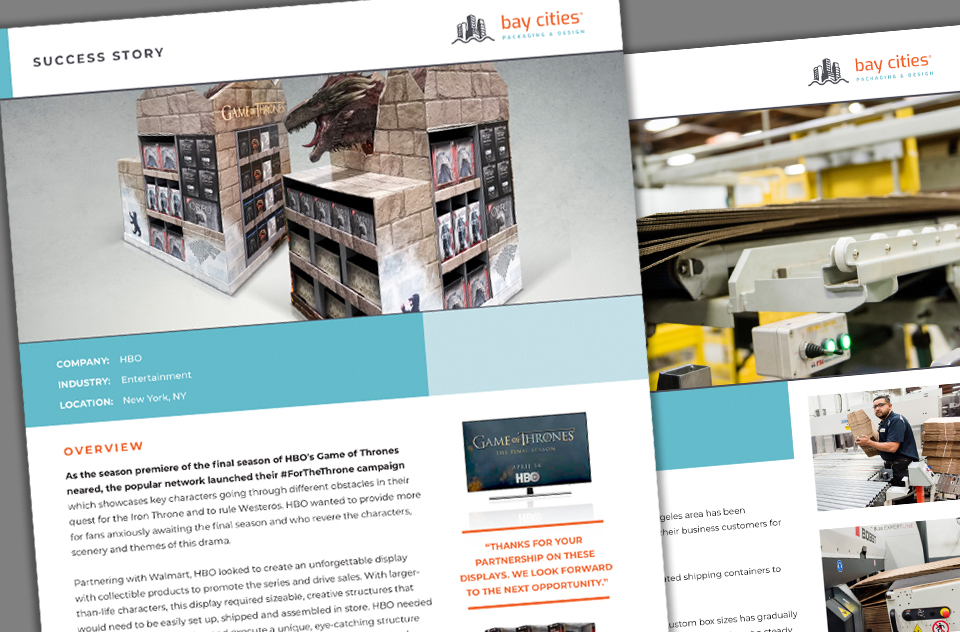 NEWS RELEASE
FOR IMMEDIATE RELEASE
For more information, contact us.
Bay Cities Launches Success Stories Landing Page
Case studies to empower customers with the best of packaging and display solutions
PICO RIVERA, CA, Jan. 28, 2019: Bay Cities, North America's most innovative packaging and design company, today announced the launch of a Success Stories landing page that will feature past and current case studies depicting packaging and display successes over the years.
The Success Stories landing page augments coverage of success stories on LinkedIn, the Bay Cities blog and other social media. The rational behind the Success Stories aggregation was to help existing and future clients look to Bay Cities' solutions to challenges by a wide range of brands and products across business sectors, services and retailers.
Particularly considering challenges faced by brands pertaining to eCommerce, sustainability and omni channels — Bay Cities seeks to share relevant case studies that can translate across current and new clients.
The new Bay Cities Success Stories page can be accessed at: https://www.bay-cities.com/success-stories/
"Bay Cities is dedicated to staying on top of the latest end-to-end retail solutions, printing and packaging technologies, and other services like packout, so that this knowledge can be transferred to our diverse customer base. Reading a case studies about a comparable challenge a brand is facing, is a great place to get the creative and solution juices flowing," said Bay Cities Sr. Director, Marketing and Branding Nanneke Dinklo. She continued, "We are here to move our customer's products."
To learn more about Bay Cities please contact us. Sign up for our newsletter to stay up to date.
About Bay Cities
Bay Cities is North America's most innovative packaging and design company, providing integrated, end-to-end packaging and logistics solutions that are proven to drive sales, both on-shelf and online. Powered by technology and the best people, Bay Cities works seamlessly with brands and retailers to design and deliver product packaging and in-store display programs with ease and accuracy.