Bay Cities Reveals 2018 Christmas Gift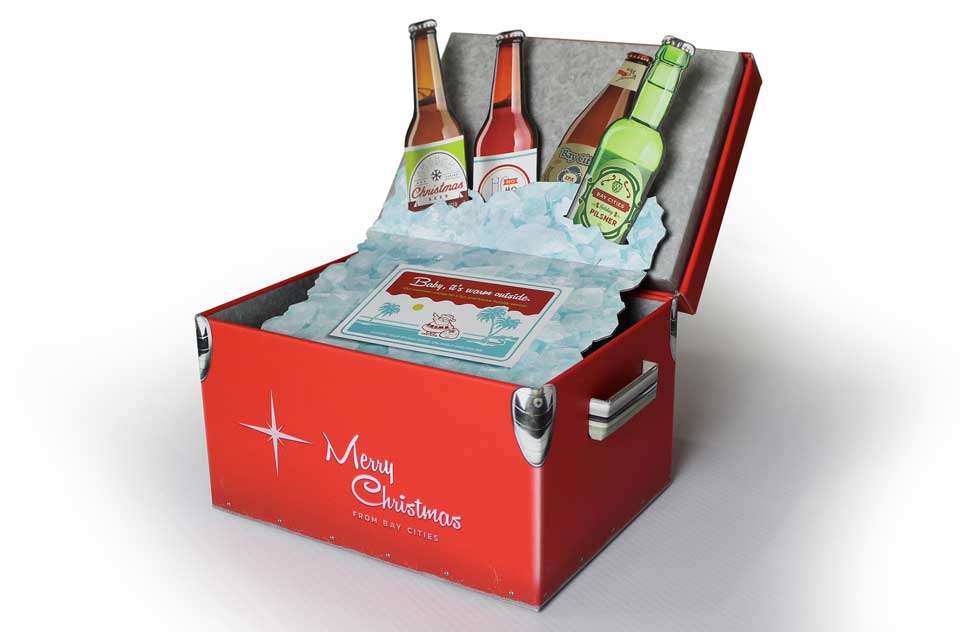 NEWS RELEASE
FOR IMMEDIATE RELEASE
For more information, contact us.
Bay Cities Reveals 2018 Christmas Gift
Creative and Innovative Packaging with Augmented Reality
PICO RIVERA, CA, Dec. 12, 2018: Bay Cities, North America's most innovative packaging and design company, today announced their 2018 Christmas gift, "Summer in December." This year's gift features a detailed ice chest with an interactive augmented reality game that reflects the innovation and growth of the company.
For the past 10 years, Bay Cities has designed and manufactured unique holiday gifts for our customers and vendors, that exhibit our creative graphics and structural design as well as our manufacturing and pack out capabilities. In November, we launched a social media campaign for customers to reflect on gifts of past years and to build excitement for this year's gift reveal.
"Each holiday season, we look to thank our clients and partners while demonstrating our design and manufacturing expertise," said Bay Cities CEO Greg Tucker. He continued, "we execute this by creating an inventive gift that incorporates cutting-edge technology, innovations and clever ideas that speak to the 21st century customer."
"Summer in December" evokes a beach theme reflecting on the company's California roots. Bay Cities drew inspiration from vintage ice chests and incorporated die cut beverage bottles for a 3D customer experience once the package is opened. Included in the chest are Obagi Sunscreen, a valued Bay Cities customer for years, a branded mason jar tumbler and candy to complete the tangible gift. Customers will open or download the Bay Cities app to be able to play a fun game against other recipients through Augmented Reality.
Our social media campaign has concluded with the winners of the contest announced next week. The winners will each receive 100 customized subscription or press kit boxes.
###
About Bay Cities
Bay Cities is North America's most innovative packaging and design company, providing integrated, end-to-end packaging and logistics solutions that are proven to drive sales, both on-shelf and online. Powered by technology and the best people, Bay Cities works seamlessly with brands and retailers to design and deliver product packaging and in-store display programs with ease and accuracy. Visit us at Bay-Cities.com.