Bay Cities Unveils Exquisitely Soothing 2019 Holiday Gift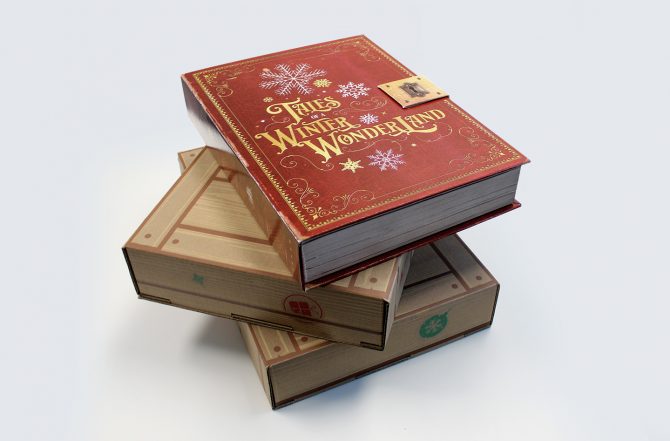 NEWS RELEASE
FOR IMMEDIATE RELEASE
For more information, contact us.
Gift focuses on enjoying the holiday season
PICO RIVERA, CA, Dec. 11, 2019: Bay Cities, North America's most innovative packaging and design company, today announced their 2019 Christmas gift, "Tales of a Winter Wonderland." This year's gift encourages recipients to relax and dwell on the joys of the holiday season with a visual adventure that starts with a storybook reminiscent of the fairy tale books enjoyed as kids.
The storybook is an invitation to curl up by the fire and relax, starting with an enchanting Augmented Reality experience. The Augmented Reality starts when a phone aimed at the cover, unveils a key which unlocks the experience. There's more to this storybook package than fabulous graphics and an AR experience. Compartments are filled with treasures that promote stress-free holidays – a diffuser to help relax, organic soap samples to enjoy and sleep time vitamins to help get a good rest.
Printed digitally on Bay Cities' Barberan and HP digital printers, each storybook is personalized inside with the recipient's name
This year marks the 11th year that Bay Cities has designed and manufactured unique holiday gifts for the company's customers and vendors. Each year, the gifts exhibit the company's creative capacity in graphics and structural design, alongside manufacturing and pack out capabilities.
"Holidays are always a lot of fun for us at Bay Cities. It is a time when we get creative expressing our thanks to clients and partners while demonstrating our design and manufacturing capabilities," said Bay Cities Sr. Director, Marketing and Branding Nanneke Dinklo. She continued, "We look forward to incorporating the latest and greatest in experiential packing and printing technologies to create unique, heartfelt, enjoyable gifts that showcase our advanced execution capacities."
To learn more about Bay Cities please contact us. Sign up for our newsletter to stay up to date.
About Bay Cities
Bay Cities is North America's most innovative packaging and design company, providing integrated, end-to-end packaging and logistics solutions that are proven to drive sales, both on-shelf and online. Powered by technology and the best people, Bay Cities works seamlessly with brands and retailers to design and deliver product packaging and in-store display programs with ease and accuracy.
###
Visit us at Bay-Cities.com.