Bay Cities Wins First and Second Place at AICC 2019 Design Competition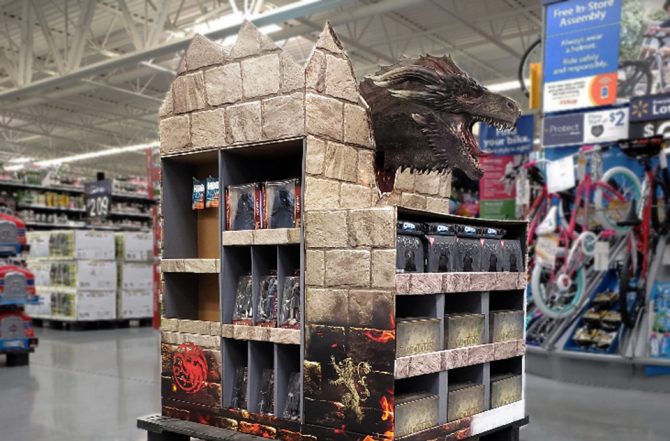 NEWS RELEASE
FOR IMMEDIATE RELEASE
For more information, contact us.
POP Displays Were Recognized by the Independent Packaging Association
Pico Rivera, CA: September 23, 2019: Bay Cities, North America's most innovative packaging and design company, today announces being awarded first place and second for the Best POP Floor Display at the AICC 2019 Independent Package Design Competition in Toronto, Canada. The Game of Thrones display took first place and the Bumble Bee display took 2nd place. Both were recognized for their creative structural and graphic design.
For over 60 years, Bay Cities has been the leading creative packaging and display partner to brand marketers, retailers and e-commerce companies. Through innovation and creativity, Bay Cities has executed unique, eye-catching POP displays for major brands to be placed at retailers. The Game of Thrones and Bumble Bee POP displays were developed and executed to hold toys, games, apparel and various collectors' items. These POP displays hit Walmart stores nationwide and were a hit with customers, selling through in a short period of time.
Since 1981, AICC, The Independent Packaging Association, has been proud to recognize, showcase, and reward those independents who have met and exceeded their customers' expectations of their packaging designs and displays.
"We are honored to receive these awards from AICC as a testament to our dedication to innovation in the POP display and packaging industry," said Greg Tucker, CEO. He continued, "we strive to set brands apart on the retail floor with creative displays that will attract shoppers. We thank the organizers and judges of AICC for this recognition."
Bay Cities continues to stand out within the industry as a brand partner with a strong understanding of major retailers, shopper marketing and POP display design.
To learn more about our offerings, contact us.
Sign up for our newsletter to stay up-to-date.
###
About Bay Cities
Bay Cities is North America's most innovative packaging and design company, providing integrated, end-to-end packaging and logistics solutions that are proven to drive sales, both on-shelf and online. Powered by technology and the best people, Bay Cities works seamlessly with brands and retailers to design and deliver product packaging and in-store display programs with ease and accuracy. Visit us at Bay-Cities.com.