CPR, AED, and Dual Language at Bay Cities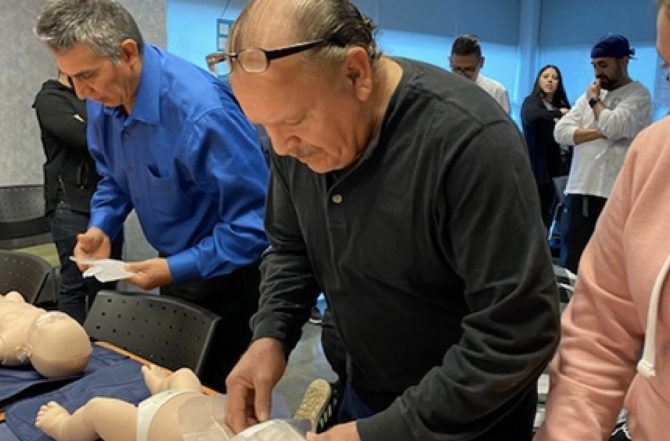 The average response time for an ambulance is 8 minutes. That may not sound like much of a wait but, in a life-threatening situation, 8 minutes could be a big difference maker. That's why this month we spent time with our employees and their families; teaching them CPR, AED, in both Spanish and English. Over the course of 4 hours, approximately 50 family members and employees spent time at Bay Cities learning and practicing the fundamentals of safety response.
Bay Cities operates under an employee stock ownership plan, meaning that our workers are also the shareholders of the company. As an ESOP we are like a family, we want to keep our employees safe, aware, and prepared in the workplace or at home with their own families.
What exactly is CPR and AED training? CPR, or cardiopulmonary resuscitation, is a common term that most people would recognize. Conversely, if you ask someone what an AED, most likely they will not know. Unlike CPR which pumps the blood to vital organs, an AED machine can restart the heart in the case of cardiac arrest.  If you are ever involved in the resuscitation of a person, the AED machine should be your first stop. The first few minutes after a cardiac event are crucial which is why Bay Cities makes sure there is always an AED nearby, with a total of 8 AED machines company-wide and easily available in the case of emergency.
Why is this training so integral in the workplace?  First aid training prepares our employees to react immediately to an incident, injury, or illness in a calm and confident manner. First aid training is important as an emergency response tactic as it will prevent the exacerbation of an injury.  Strict OSHA regulations and guidelines play a huge role in accident prevention as employees can easily spot safety hazards before an accident takes place, but in some cases, accidents cannot be prevented.
"The outcome of occupational injuries depends not only on the severity of the injury, but also on the rendering of first aid care," writes OSHA in its 1991 Guidelines for Basic First Aid Training Programs. "Prompt, properly administered first aid care can mean the difference between life and death, rapid vs. prolonged recovery, and temporary vs. permanent disability."
An immediate and appropriate first aid response can reduce recovery time, which will lead to less lost productivity for both the company and the employee. We want to make sure that our employees retain this information when they leave the workplace because emergency situations can be highly unpredictable and can happen anywhere. No matter how quickly an ambulance response arrives, nothing will beat the immediate medical response of a trained coworker or loved one.
We are proud and fortunate to have a balanced and diverse workforce at Bay Cities, with a large Spanish speaking employee base. By teaching our classes in Spanish and English we're able to ensure that our employees will learn safety and emergency response techniques in their most familiar language, while also providing them an opportunity to improve their bilingual capacities.
We offer this valuable resource to ensure that emergency procedures and communications are effective in the event of a lifesaving event or when dealing with day-to-day preventative measures. It is critical that we all stay well-informed and well-trained as safety at Bay Cities is everyone's responsibility!