Stories of #WFH – 2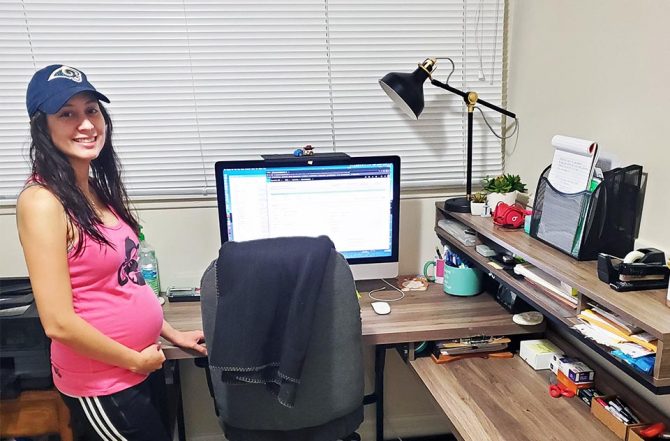 Elayne – Graphic Design
What is your #WFH routine?
-Wake up
-Get ready for work (aka toss my hair in a creative bun & throw on a hoodie & leggings (because no other clothes fit now – preggo belly is growing, but my clothes are not!)
-Log onto my computer
-Check my emails
-Hop on Teams for our Graphics Morning Meeting
-Eating breakfast as I start working on jobs
-Get up for a snack
-Work more
-Eat lunch
-Come back and work
-Take a 15min break to get on elliptical
-Take a snack with water and get back to work
-Check the clock 
-Finish up the last projects
-Eat 1st Dinner while working
-End my work day by saying goodbye to my team & logging off
What is your favorite part about #WFH?
I don't get interrupted as much while working and I can play music on my speaker, rather than wear headphones. I also like that I don't have to worry about packing my food for the day — I can just go into the kitchen and make myself a midday smoothie if I feel like it.
What is the most challenging part about #WFH?
I like being able to look at digital samples physically and being able to walk from one department to another to discuss the art with the CSR or Sales Rep. I have to rely on photos now, which is just not the same.
What are you reading?
-The Circle Maker by Mark Batterson
-The Baby Owner's Manual: Operating Instructions, Trouble-shooting Tips, and Advice on First-Year Maintenance by Louis Borgenicht
What are you watching?
Just finished watching "All American"
Still debating on next show
How are you staying fit?
Using my home elliptical & just bought a yoga ball!
What is your socializing strategy? 
Zoom meetings
How do you buy necessities?
Amazon for items that can wait a bit
My husband goes out to cater to my cravings
My sister out for household groceries
What is your biggest take away from #WFH?
Teamwork and communication are even more important now because we are adapting to a new lifestyle. I've learned it has a lot of plusses while being pregnant – my home office is right across from the restroom and a short walk to the kitchen!