Stories of #WFH – 9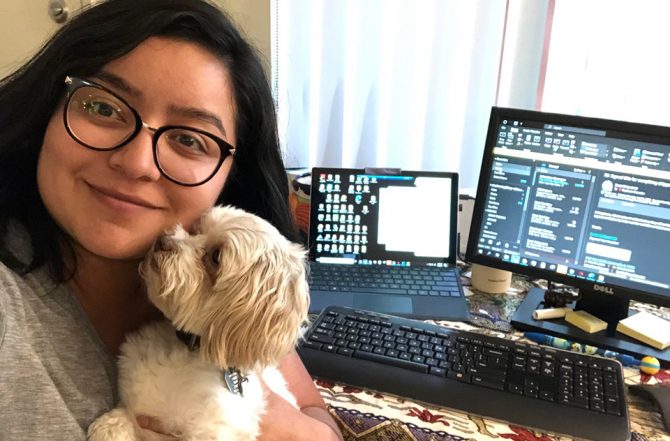 Stephanie – IT
What is your #WFH routine?
Wake up to my alarm, I can probably sleep all day if I do not set an alarm. My wife leaves around the time I wake up. I typically give her a sleepy goodbye kiss and reminder her to take her lunch.
I prepare for the day and tidy up my workstation – I like to work clutter free.
During my lunch, I walk my dog Frida around the neighborhood. When we get back, she likes to sit on my lap while on the computer.
 What is your favorite part about #WFH?
My new and improved cooking skills.
What is the most challenging part about #WFH?
Dressing the part – I have been wearing lots of yoga pants.
What are you reading?
"Don't Stop Dancing," by Eric Anderson. I met Eric years ago, in a club in Vegas. He was in a wheelchair and we instantly connected for our love of dancing! Years later we kept in touch and to my surprise… Eric recently wrote a book about his experience on loss and how he found light over darkness. I recommend reading his story, especially during today's pandemic. It is a reminder to live every moment to the fullest.
What are you watching?
I was a bit behind on the latest shows but finally finished Stranger Things III. This inspired me to pick up sketching again. I am currently working on sketching a "Demogorgon".
How are you staying fit?
I have tried some workout YouTube videos, but mostly walking/jogging around with Frida. Now that trails have re-opened, I am excited to include hiking to my routine.
What is your socializing strategy?
STRANGER DANGER – and virtual hour with friends.
How do you buy necessities?
Online shopping and grocery shopping every other week.
What is your biggest take away from #WFH?
When the world is constantly changing, it is important to stay positive. I practice looking for the good and taking in moments to appreciate the little things.