Pets Go Natural
According to the American Pet Products Association, US consumers continue to spend more and more on their pets. The market size was well over $69 Billion in 2017, up from $66.75 Billion in 2016 and $60.28 Billion in 2015.
One of the trends we are seeing in the pet industry is the demand for natural ingredients with sustainable practices and transparency. Purchase decisions at retail are becoming less automatic and more deliberate as pet parents want to ensure they are buying the product that is best for their pet. Clear and correct labeling on your packaging is becoming more and more important. Customers want to know exactly what they are buying and want to verify claims on pet food and products with natural ingredients.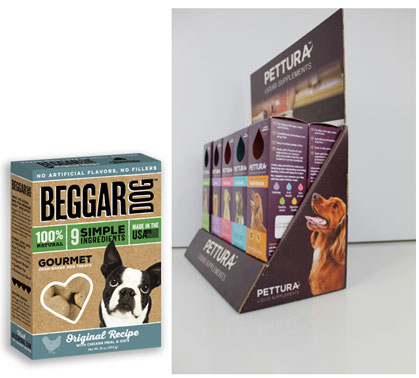 Pet owners care about the ingredients that go into the food and grooming products they give and use on their pets. Considering US consumers spent over $34 Billion on food and grooming products in 2017, switching to or adding natural ingredients and sustainable product practices to your portfolio might be worth it. To see what a natural pet food really entails, there are many resources on the web like petmd.
Besides the actual food and grooming ingredients, green packaging and a compelling brand message will go far to convey your commitment to sustainability and the environment. Contact us and we are happy to help you with creating the look you would like to convey.