Corrugated shipping containers for manufacturing company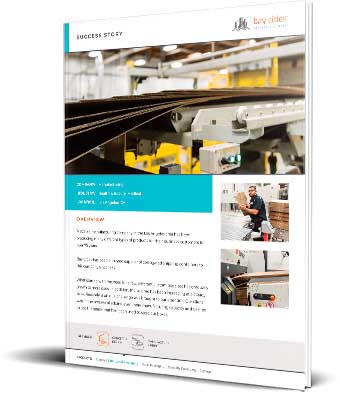 Overview
A sizable manufacturing company in the Los Angeles area has been producing many different types of products for their business customers for over 75 years.
Bay Cities has been a trusted supplier of corrugated shipping containers to this company since 1982.
What started with the need for a few, different custom box sizes has gradually grown to more sizes. In addition, the volume has been increasing at a steady pace. Recently, a unique challenge was brought to our attention. Our client was in the process of adding even more manufacturing capacity and desired to use the space that had been used to store our boxes.
Solutions
Bay Cities and the customer started to look in depth into the ordering patterns, sizes and stock runs. No easy task, as Bay Cities was producing an average of 12 different size custom boxes for this client every day. Quantities ran from 150 to 2,500 units of any given size and Bay Cities delivered an average of 300,000 boxes per month. It turned out that, as a habit, the client had always ordered
more than was needed and as such were needing storage space. Now that storage space was a precious commodity which needed to be given up for new equipment.
Bay Cities and the customer started to work together to streamline the PO and ordering process. The customer reduced order quantities drastically, sometimes to as little as 3 boxes, and Bay Cities used new and different equipment and processes to run these different volumes. In order to reduce overpacking on the customer's site, Bay Cities also introduced more custom sizes to an average of 19-25 different sizes per day.
Results
The customer quickly embraced the new order and fulfillment processes. Their stock quantities were reduced significantly, their box size choices increased, and all this was achieved without sacrificing service, quality and lead times. The customer was able to install their equipment and increase production, without having to acquire additional real estate.
Bay Cities and the customer continue to meet on a quarterly basis. This meeting includes Client Service, Sales, Operations and Quality. All processes are continuously reviewed and updated as needed.