Fortnite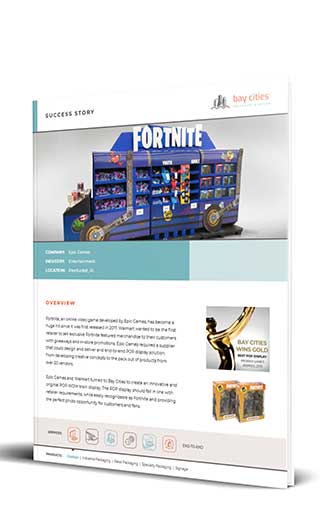 Overview
Fortnite, an online video game developed by Epic Games, has become a huge hit since it was first released in 2017. Walmart wanted to be the first retailer to sell exclusive Fortnite featured merchandise to their customers with giveaways and in-store promotions. Epic Games required a supplier that could design and deliver and end-to-end POP display solution: from developing creative concepts to the pack out of products from over 20 vendors.
Epic Games and Walmart turned to Bay Cities to create an innovative and original POP WOW train display. The POP display should fall in line with retailer requirements, while easily recognizable as Fortnite and providing the perfect photo opportunity for customers and fans.
Solution
We developed several creative concepts. The Fortnite Battle Bus display was chosen, as it mirrored the iconic feature of the video game and was instantely recognizable even from afar. The POP display train, which required various types of POP displays like a power wing, an endcap, and different types of pallet displays was designed to showcase and accentuate all the products that fit inside: Toys, games, apparel, collector items, gift cards, and much more.
In order to eliminate and minimize the chance of damage during the distribution of the packaged products, the POP display went through ISTA testing before going into production.
After production, the trains went to Bay Cities' packout facility to get fully stocked. To provide full project inside and tracking, we set Epic Games up with our custom client portal, BayView. BayView provides clients access to their programs 24/7 from execution to completion.
Results
The Fortnite Battle Bus rolled into Walmart in time, in full. It functioned as a great social media opportunity and created an unforgettable in-store experience. The products featured in the display were sold out within just a few days days of hitting stores.
As a testament to Bay Cities' dedication and innovation in the gaming industry, Promax recognized this display as the best POP display, winning gold, at the 2019 Promax Games Awards.