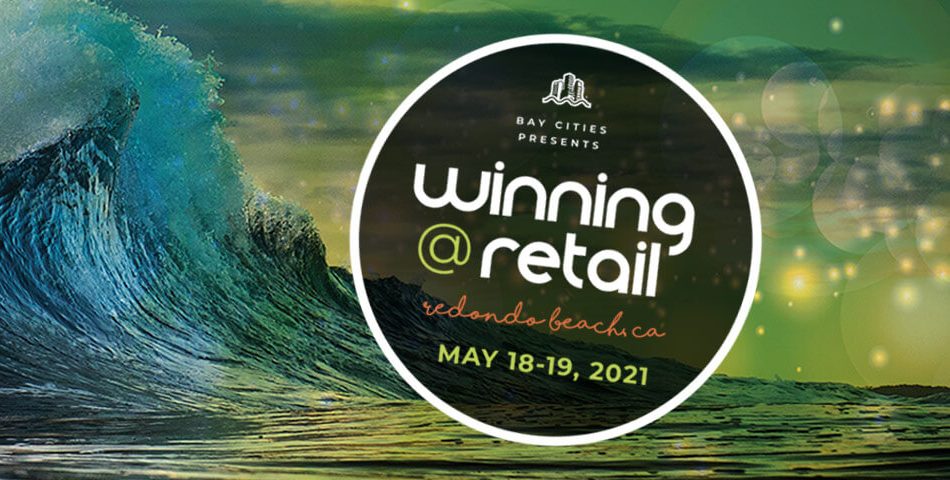 JOIN BAY CITIES FOR WINNING @ RETAIL
May 18 – 19, 2021
Winning @ Retail is an educational virtual and in-person summit featuring brands, industry insiders, and major retailers. Experts from different disciplines including retail research and shopper marketing will present. Panels with brands and major retailers will provide their insight, and we will host an exclusive plant tour.
Retail is alive and kicking with brick and mortar stores offering new, safe ways to engage customers throughout their purchasing journey. Online has changed the way we shop at a faster speed than ever before. So much has changed in just several months. Brands and retailers are integrating online and offline channels for an immersive and enthralling customer experience. Brands are continuously adapting their ways to interact with customers and following them through their journey.
Learn about the future of omni-channel retail and hear from key insiders and experts on how you can stand out on shelf and online.
Check out last year's Winning@Retail recap video. We learned and got new insights from retail research and shopper marketing experts as well as from the panels with brands and major retailers.
Looking forward to seeing you at our upcoming event!
Price:
$199 – Before March 1st, 2021
$249 – Between March 1st and April 15th, 2021
$299 – Between April 15th and May 15th, 2021
RSVP before March 1st to save!
This event can be attended in-person or virtual. When attending in-person, all safety protocols as outlined by the CDC and the state will be followed. In case we are not allowed to hold an in-person event, all registrations will automatically turn into virtual attendance.
Agenda
Day 1: May 18, 2021
Location: Shade Hotel, 655 N. Harbor Drive
Redondo Beach, CA 90277
Welcome address: Greg Tucker, Bay Cities
Steve Frenda, Inspiring Retail
Neil Stern, Good Food Holdings & Amanda Lai, McMillan Doolittle
Bill Bauman, Newmark Knight Frank
Packaging Panel – A.J Gruber, ISTA & Brent Lindberg, Fuseneo
Brand Panel – Speakers TBA Soon
Rebecca Adams, SmartyPants
Cocktail Reception/Entertainment
Day 2: May 19, 2021
Location: Bay Cities, 5138 Industry Ave
Pico Rivera, CA 90660
Bus Available to Return to LAX and Shade
Speakers

STEVE FRENDA
Founder & CEO, Inspiring Retail
Steve is a veteran of the Consumer Goods industry with a mix of manufacturer, retailer, infotech and industry association experience. Mr. Frenda is a recognized authority and has been a frequent industry speaker, author and blogger on the topic of re-structuring the interaction between brands, retailers, solution providers and shoppers. The focus is effective marketing to shoppers in a marketplace seismically impacted by shifting shopper behaviors, digital enablement, E-Comm and the customer power shift.

NEIL STERN
CEO, Good Food Holdings
Neil Stern has spent his 30+ year career in the retail industry, focused on assisting retailers on their strategies and concepts.
Neil currently serves as Chief Executive Officer for Good Food Holdings (GFH), Vwhich operates over 50 supermarkets on the West Coast of the United States under five different banners. With stores from San Diego to Seattle, Good Food Holdings includes Bristol Farms and Lazy Acres in Southern California, New Leaf Community Markets in Santa Cruz, New Seasons Market in Portland and Metropolitan Markets in Seattle. The company focuses its formats in the premium, fresh, natural and organic space. GFH is a subsidiary of Emart, a South Korean retail conglomerate. Neil's relationship with Emart spans over a decade, and while working with Emart, he helped the company develop its private brand program, numerous new retail formats and worked on the US entry strategy.
Neil is also recognized as a key thought leader in the retail arena. Neil is a sought-after speaker concerning retail trends both in the U.S. and Internationally. He has delivered keynote addresses at the leading retail organizations in the country including FMI, NRF, NGA and the PLMA. Neil is a frequent contributor to Forbes and is served as Chairman of The Ebeltoft Group, an international consortium of retail consultants, from 2015 to 2018.
He has authored two books, Winning at Retail and Greentailing and Other Revolutions in Retail. Neil was named to Crain's Chicago Business 40 under 40 list of prominent Chicago business leaders and was also named as one of the 40 Rising Stars in Retailing by Chain Store Age. Neil is an honors graduate of Columbia University and has attended Northwestern's Kellogg MBA program.

AMANDA LAI
Manager, McMillanDoolittle
Amanda Lai is a Manager at McMillanDoolittle, a Chicago-based consultancy with over 30 years of experience serving the retail industry. Amanda manages the company's food retail practice and supports strategic planning, retail concept development, consumer research, and real estate analysis for a diverse range of retail clients. In her four years at McMillanDoolittle, Amanda has served companies in the grocery, restaurant, apparel, consumer electronics, automotive, and real estate sectors across the United States, Canada, Mexico, United Kingdom, and South Korea.
Amanda has been featured as a subject matter expert on TD Ameritrade and CBS News, and has been quoted in newspapers and industry publications including Chicago Tribune, Progressive Grocer, Drug Store News, and Convenience Store News.
Beyond the retail industry, Amanda is a Board Member of the INROADS Chicago Alumni Chapter, a charity organization that develops and places diverse and talented underrepresented youth in paid corporate internships. In addition, she is a long-time mentor at Big Brothers Big Sisters and a member of the Willow Chicago Anti-Human Trafficking Cause Group.

DORIS BROWN-MCNALLY
HP
For more than 30 years Doris Brown has been recognized in the printing, textile and plastics industries as one of the foremost experts on color, a crucial element in corporate branding and identity.
Doris has been an outspoken leader and advocate regarding color communication, cross media marketing and digital print production. She built her career on a solid foundation with a degree in Print Production from the Rochester Institute of Technology, arguably the best university for such studies in the world. Her leadership skills and extensive industry knowledge are well-documented throughout her career as an executive at Hewlett Packard®, Datacolor®, Pantone®, Agfa®, and International Paper®
Doris enjoys sharing her knowledge, with brand owners, marketers, and creatives in an effort to make them more successful.

BRENT LINDBERG
Fuseneo
Brent Lindberg is annoying, and he knows it. With a curiosity that rivals George, he has a habit of relentlessly asking questions like a 5-year-old. And anyone who knows him can tell you he has an obnoxious appetite for the unexpected. But somehow these odd traits create a perfect storm for real innovation. This has become the culture of Fuseneo, the packaging innovation team he formed over a decade ago. Together they help brands find unexpected opportunities in packaging by combining daring creativity with serious expertise.

BILL BAUMAN
Vice Chairman, Newmark Knight Frank
Bill Bauman joined Newmark in January 2018 as a Vice Chairman leading a dedicated retail and capital markets practice group. Prior to joining Newmark, he worked for Savills Studley since 2009 as a Vice Chairman and Head of Global Retail Services, where he was instrumental in building a full-service retail practice group. Bill and his team specialize in retail land planning, developer consultation, and investment sales. He has an extensive background in land acquisition and disposition programs, pre-leasing commitments, retail tenant representation, investment sales, development consulting services, and overall retail market analysis. Bill's team provides comprehensive tenant representation consultation services including expert market and trade area analysis, competitor analysis, lease negotiation services, implementation of roll out strategies, and overall market expertise.
Consistently a top performer, Bill has been recognized repeatedly by the firms for which he has worked. As well as nationally recognized as one of Real Estate Forum's Top Brokers. Prior to joining Newmark Knight Frank, Bill was the top retail producer for Colliers International from 1994-2008 and the top producer overall for Colliers International Southern California region for 6 of the last 8 years. While at Savills Studley, Bill was the top retail producer in the country for nine consecutive years and was consistently amongst the top overall producers nationally during the same time period.

ANDREW J. GRUBER
President & CEO, ISTA
Mr. Gruber is President & CEO of the International Safe Transit Association (ISTA), an association focused on empowering organizations and their people to minimize product damage throughout distribution and optimize resource usage through effective package design. Prior to joining ISTA as the VP Technical in 2012, Mr. Gruber spent 6 years focused on the specific concerns of transport packaging and dangerous goods at UPS where he led the development of the UPS Eco Responsible Packaging Program. His various industry activities include the Editorial Board for the Journal of Applied Packaging Research (JAPR), Packaging Industry Advisory Boards for Cal Poly State, AMERIPEN's Technical Advisory Group, and Michigan State University Alumni Association Board of Directors.

REBECCA ADAMS
VP, Smarty Pants
Rebecca Adams is a Sales Leader and Business Development Executive that has been with SmartyPants since the very early days. Working in the CPG space for 9+ years, she has a deep knowledge of the supplement industry as well as the retail environment
Rebecca has built sales organizations and retailer relationships, having grown SmartyPants to one of the top selling vitamin brands in the industry. Rebecca holds an MA from the University of Edinburgh in Politics and International Relations.
On Wednesday, May 18 transportation from the Southbay to Bay Cities and from Bay Cities to the airport will be provided.
Stay tuned for more announcements!