Juice It Up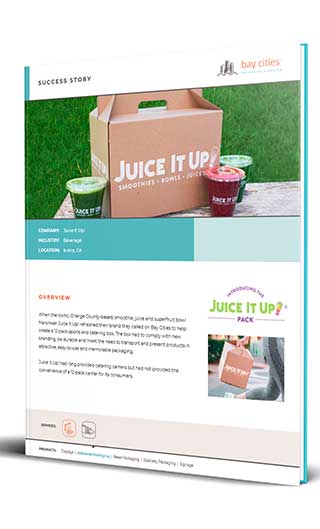 Overview
When the iconic, Orange County-based, smoothie, juice and superfruit bowl franchiser Juice It Up! refreshed their brand they called on Bay Cities to help create a 12-pack sports and catering box. The box had to comply with new branding, be durable and meet the need to transport and present products in attractive, easy-to-use and memorable packaging.
Juice It Up! had long provided catering carriers but had not provided the convenience of a 12-pack carrier for its consumers.
Solution
In order to keep the footprint small, use less material and keep the carrier easy to use, the structural design team came up with a flexible design, which could accommodate 6 or 12 juices in one haul.
When franchise owners were given a sneak peak of the 12-pack carrier they loved it. The new carrier became active across the franchise network of nearly 100 stores very soon after their review. Franchise owners report that they are pleased with the structural integrity, size, and design of the carriers.
The carriers use four panel layers. A self-locking handle, and e-flute material gives the carriers structural durability without losing the smooth print of the logotype. To keep with the brand's commitment to sustainability and in keeping with this younger branding, Juice It Up! chose brown Kraft. Rather than doing full color, they chose a monochromatic design – to accommodate their simple, natural, and sustainable theme.
Results
The new carrier design offers a good branding opportunity with large front face to showcase the brand's new big and simple logo for their "Juice on the Go" box campaign.
The box is sustainable, in line with their brand, and the flexible design can be used as a 6- or 12-pack carrier. A huge benefit of the new Juice It Up! carrier is that it allows for one-handed carrying of a 12-pack of smoothies.