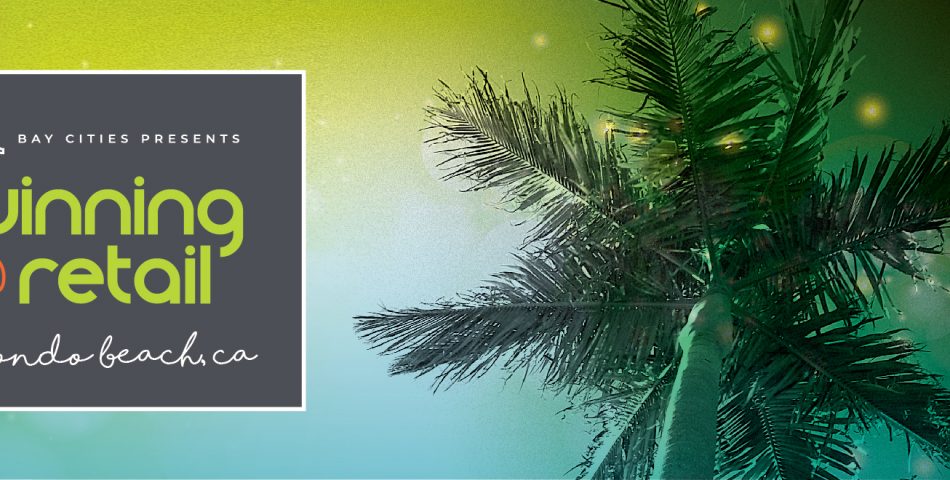 JOIN BAY CITIES FOR WINNING @ RETAIL
September 12- 13
Winning @ Retail is an educational summit featuring retail research and shopper marketing experts, panels with brands and major retailers, and an exclusive plant tour. Brands and major retailers such as SugarBearHair, 23andMe, Costco and Target will present.
Retail is alive and kicking with brick and mortar stores offering new ways to engage customers throughout their purchasing journey. Online has changed the way we shop and brands and retailers are integrating online and offline channels for an immersive and enthralling customer experience. Brands are continuously adapting their ways to interact with customers and following them through their journey.
Learn about the future of retail and hear from key insiders and experts on how you can stand out on shelf and online.
Price:
$199 – Before August 25th
$249 – Between August 26th & September 7th
$299 – Between September 8th & September 11th
RSVP before August 25th to save!
Agenda
Day 1: September 12, 2019
Location: Shade Hotel, 655 N. Harbor Drive
Redondo Beach, CA 90277
Welcome Address – Greg Tucker, Bay Cities
How Experiences Drive Our Brains and Choices – Holly Green, The Human Factor Inc.
Leveraging the latest in neuroscience, Holly will share with you how our brains use experience as the single greatest factor in determining our actions – in the aisle and in life. Understanding the brain's pathways, how they are created, and why we get stuck, helps us to lead others to the actions we desire. We are amazing creatures and our brains are capable of astounding things. Get the inside track on leveraging the brain to achieve your objectives.
Retail Prophet – Doug Stephens
Since the release of Doug Stephens' first best-selling book, The Retail Revival, change in the global retail sector has accelerated beyond even the boldest forecasts. As predicted, online giants like Amazon and Alibaba.com are growing at a dizzying pace. Hundreds of well-known brick and mortar retailers have closed their doors, and brands and retailers across categories are struggling to understand the shifting needs and expectations of a new consumer.
Far from spelling the end of retail however, these changes mark a profound new and inspired beginning. From online to bricks and mortar, the very concept of what stores are, how consumers shop them, and even the core economic model for revenue, will be completely reinvented; changes sure to affect not only retailers large and small but any business with a stake in the global retail industry.
Drawing on research and examples from his latest international bestseller, Reengineering Retail: The Future of Selling in a Post-Digital World, Doug will share what creative and courageous businesses will have to do to secure their place and prosperity in the future.
The Power of Creative Effectiveness – Shawn Murnan
Have you ever been part of a creative decision where someone says 'that's good enough.' Or, 'my boss likes it, so let's go with it.' Or, 'sure, we can add that; it won't matter.' Optimized creative will drive sales if evaluated properly. In this presentation, Shawn will review the four foundational elements necessary for effective creative.
Packaging Technology to Grow Your Brand and Improve Sustainability – Garrett Bradley
Print technologies are developing rapidly and are changing the way brands can make different and deep connections with their customers. New technologies create new opportunities for delivering value through packaging. Learn how brands can connect with the ever changing consumer with customization, personalization and speed to market while utilizing packaging as a marketing tool. Sustainability is at the forefront of these new technologies as an additional competitive advantage.
Brand Panel – Liz Elert, SugarBearHair and Steve Williams, 23andMe
More than ever brands are competing for a consumer's attention in a world where new information and products show up every day. Learn from brand insiders how they are not only surviving, but thriving in retail and online.
Retail Panel – Joel Goldsmith, Goldsmith & Myers Retail Marketing, Erin Wall, Bluebird (Best Buy/Target) and Brent Lindberg, Fuseneo
The retail environment is changing rapidly. New advancements like integrating online and offline experiences as well as a changing retail store, require a different approach from brands. Learn from retail insiders what it takes to be successful in a retail environment and what retailers are doing to keep the customers coming to their stores.
Cocktail Reception – Entertainment by Einstein Brown
Day 2: September 13, 2019
Location: Bay Cities, 5138 Industry Ave
Pico Rivera, CA 90660
Lunch – In-N-Out Burger and Entertainment by Einstein Brown
Bus Available to Return to LAX and Shade
On Friday, September 13th, transportation from the Southbay to Bay Cities and from Bay Cities to the airport will be provided.
Stay tuned for more announcements!
Speakers

Greg Tucker, Bay Cities
SEPT. 12 – 9:30 – 9:45 am
Graduate of the University of Southern California. Started as a sample maker at Bay Cities while attending college. Became a Salesperson and rose to the President's position in 1995. Became CEO shortly thereafter and named Chairman in 2002. Served as Chairman of the Association of Independent Corrugated Convertors in 2014/2015. Serves as Board of Director member of the AICC, International Corrugated Packaging Foundation, and Fiber Box Association. Advisory Board member of California Polytechnic State University San Luis Obispo CA. Member of Vistage International.

Holly Green, The Human Factor, Inc., Architect of Pause™ & Thinking to Thrive Expert
Global Management Consultant, Award-Winning Speaker, Best Selling Author
SEPT. 12 – 9:45 – 10:30 am
Holly guides leaders and their organizations in achieving greater success by teaching you to leverage your brain and the brains of others.
An experienced business leader and behavioral scientist, Holly has a rare combination of extensive academic training and in-the-trenches experience working in and leading organizations. She has also worked with elite performers including the United States Navy SEALs, Top Gun Fighter Pilots, Olympic athletes, senior NFL referees, the FBI Leadership Academy, and two United States Presidents. Holly is the former president of The Ken Blanchard Company, and co-founder of a biotech firm. She has worked in senior leadership roles with global giants including The Coca Cola Company, Dell Computer, Deloitte, and Bass Hotels and Resorts.
Holly holds a Bachelor's degree in behavioral sciences and a Master of Science degree in organization development. Her postgraduate studies are in neurophysiology. She is a best-selling author of numerous books including More Than a Minute: How to be an Effective Leader & Manager in Today's Changing World and Using Your Brain to Win.

Doug Stephens, Retail Prophet
SEPT. 12 – 10:45 – 12:00 pm
Doug Stephens is one of the world's foremost retail industry futurists. His intellectual work and thinking have influenced many of the world's best-known retailers, agencies and brands including Walmart, Google, Home Depot, BMW, Citibank, and Intel. Doug is also listed as one of retail's top global influencers by Vend.com.
Prior to founding Retail Prophet, Doug spent over 20 years in the retail industry, holding senior international roles including the leadership of one of New York City's most historic retail chains. Doug is the author of two groundbreaking books – The Retail Revival: Re-Imagining Business for the New Age of Consumerism (2013) and Reengineering Retail: The Future of Selling in a Post Digital World (2017). Doug is also the nationally syndicated retail columnist for CBC Radio and sits on the advisory boards of the Dx3 Digital Conference and the David Sobey Centre for Innovation in Retail & Services at St. Mary's University.
His unique perspectives on retailing, business and consumer behavior have been featured in many of the world's leading publications and media outlets including The New York Times, The BBC, Bloomberg Business News, TechCrunch, The Financial Times, The Wall Street Journal and Fast Company.
Doug speaks regularly to major brands and organizations across North and South America, Europe, Asia, The Middle East and Australia.

Shawn Murnan, SellCheck
SEPT. 12 – 1:15 – 1:45 pm
Shawn brings 20+ years of experience working for some of the world's greatest brands including United Airlines, Citibank, Nestle Purina and Best Buy. His unique background of having worked equally at an external agency, internal agency and as a client has allowed Shawn to see the creative process from every angle. He has been a passionate advocate of creating order and sanity while still delivering world-class advertising. He eagerly jumped at the chance to join SellCheck in 2017 where they help brands optimize consumer-facing creative based on behavioral science metrics.

Garrett Bradley, Barberan
SEPT. 12 – 1:45 – 2:15 pm
Garrett started his career in corrugated packaging and displays 25 years ago. During that time he worked with some of the largest corporations in the US developing and supplying solutions for retail. He has been a member of the Wal-Mart Sustainability council and spent several years in Bentonville working with them to reduce all areas of packaging for them and their suppliers. Three years ago he was recruited by Barberan to supply their machines in North America. Seeing this as the future of packaging and displays he was very excited for the opportunity to work with companies to acquire this technology and bring it to the largest markets in the world. In those 3 years he has installed a network of machines across the US and Canada. He has been very fortunate to gain many new friends and through his previous packaging and display experience, work with their sales group and even customers to identify potential benefits digital printing can bring.

Liz Elert, SugarBearHair
SEPT. 12 – 2:30 – 3:30 pm
Liz Elert is an industry Creative + Brand Executive known for incubating and launching white space businesses with global reach in the fashion, beauty and health industries. Known for inspiring and building high-performance teams across product development, creative marketing, digital/social and in-store experience.
Career Highlights:
Founding team member to launch Old Navy and Pink by Victoria's Secret. Oversaw and built teams for all creative functions.
Creative Director CCO roles to oversee all channels + teams for Target, the Honest Company, entire Lbrands portfolio (6 brands).
Strategic Marketing roles for start-up and established brands: Soul Cycle, Kenzo, Fossil, Delia's, Worldco, CATO, Oshkosh B'Gosh, Eames.
Currently Chief Brand Officer of SugarBearHair, a supplements + wellness brand launched in 2015.

Steve Williams, 23andMe
SEPT. 12 – 2:30 – 3:30 pm
Steve Williams leads retail sales and marketing at 23andMe, the first and only FDA authorized direct to consumer DNA testing product. In past roles, Steve has worked for Amazon Devices building their channel marketing capability to support key North American retailers. Prior to that, Steve spent the bulk of his professional career at Bose Corporation helping to develop international and global capabilities to support retail stores and reseller partners throughout Europe and Asia Pacific. Steve is curious about culture and is an avid traveler and foodie. He splits his time between Seattle and the San Francisco Bay area.

Joel Goldsmith, Goldsmith & Myers Retail Marketing
SEPT. 12 – 3:45 – 4:45 pm
Joel Goldsmith has had an extensive career helping companies reach their full potential from mass consumer products to luxury/prestige goods. He specializes in the retail channel marketplace, from Direct to Consumer, Club, Home Shopping, Specialty Retailers, Digital, Department Store, Mass, Supermarket, Drug, Military, Catalogue and Salon.
Joel has been part of the founding team for start-up ventures and has served as the senior sales executive for national companies. His skill in business management, passion for sales/marketing has driven double and triple-digit growth for his portfolio of clients.
In founding Goldsmith & Myers Retail Marketing his goal is to help companies with viable products that lack expertise in the retail marketplace. Goldsmith & Myers lead companies through the process of developing product lines, create pricing, packaging and marketing programs. Most importantly, using high-level retail relationships we help secure product placement and develop marketing programs with strategic retail partners.

Erin Wall, Bluebird (Target, BestBuy)
SEPT. 12 – 3:45 – 4:45 pm
Erin spent 9 years at developing style businesses for Target. She has extensive knowledge in both merchandising and inventory management. She was responsible for launching top-performing designer collaborations and grew market share across a wide range of businesses. Since leaving Target, Erin has successfully transitioned to deliver new concepts to retail, specifically across apparel and accessories, consumer electronics, housewares and the toy categories. She is a trend lover, and spends her time outside of work volunteering in the community, discovering new eateries and restaurants, and chasing around after her two kids.

Brent Lindberg, Fuseneo
SEPT. 12 – 3:45 – 4:45 pm
Brent Lindberg is annoying, and he knows it. With a curiosity that rivals George, he has a habit of relentlessly asking questions like a 5-year-old. And anyone who knows him can tell you he has an obnoxious appetite for the unexpected. But somehow these odd traits create a perfect storm for real innovation. This has become the culture of Fuseneo, the packaging innovation team he formed over a decade ago. Together they help brands find unexpected opportunities in packaging by combining daring creativity with serious expertise.
Accommodations
Please note that we have a small room block at The Shade Hotel and availability is limited. There are hotels in close proximity to the Shade Hotel. Transportation will be provided to Bay Cities and to the airport.
These include: