Bay Cities Packaging Announces 2022 80s Themed Holiday Gift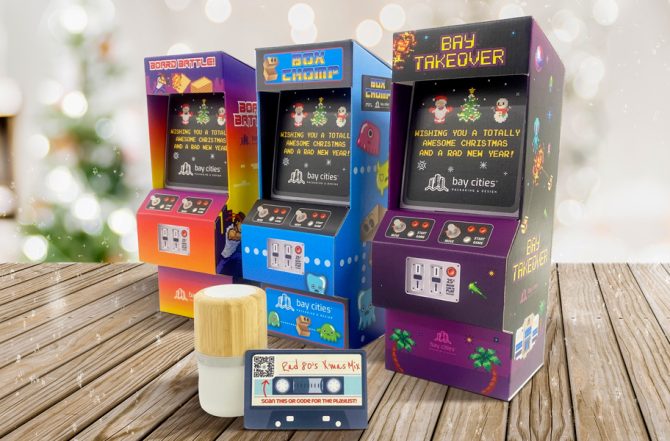 FOR IMMEDIATE RELEASE
For more information, contact us.
PICO RIVERA, CA, December 9, 2022
Bay Cities, North America's most innovative packaging and design company announces their highly anticipated 2022 holiday gift! Following some of the latest re-emerging market trends, Bay Cities' top clients are transported back to prime 80s culture with a mini retro arcade game featuring 1 of 3 iconic games – Box Chomp, Board Battle, and Bay Takeover. Collect one or collect them all, this fun interactive gift is made completely of corrugated materials and is the gift that keeps on giving!
A one-of-a-kind unboxing experience, these retro arcade games feature a holiday screen card with a QR code to an 80s-themed scavenger hunt for a chance to win a prize, along with an alternative, interchangeable screen card to serve as a nice touch of décor for your desk after the holiday season. Additional surprises include a mini portable speaker, corrugated cassette tape, and a special QR code to an 80s holiday playlist, just in time for Christmas.
With sustainability always in mind, every holiday gift is shipped with holiday art printed with biodegradable, water-based ink, along with a "Recycle Me" mark with directives on how to flatten and recycle their boxes so they can enter back into the circular economy. Bay Cities sustainability certifications SFI, FSC®, and the SPC are also highlighted on the box for maximum visibility.
"We were able to really go the extra mile and showcase our creativity on design with this year's holiday gift and have already received so much great feedback on our attention to detail, down to the messaging on the cassette tape, "Rad 80s Xmas Mix". Arcade games were such an iconic cultural item in the 80s and I think we hit the mark and brought out the nostalgia in everyone this holiday season. It's been totally rad!" – Allan Yue, Creative Director
About Bay Cities
For over 60 years, Bay Cities has been the leading creative packaging and display partner to brand marketers, retailers, and e-commerce companies using sustainable practices. Through innovation and creativity, Bay Cities has executed unique, eye-catching, and eco-friendly POP displays and packaging for major brands to be placed at retailers and online.
From concept to completion, Bay Cities is a brand partner with a strong understanding of major retailers, shopper marketing, and supply chains.
To learn more about our offerings, contact us. Sign up for our newsletter to stay up to date.