Bay Cities Joins the Paper & Packaging Board's Box to Nature Campaign to Encourage Brown Box Recycling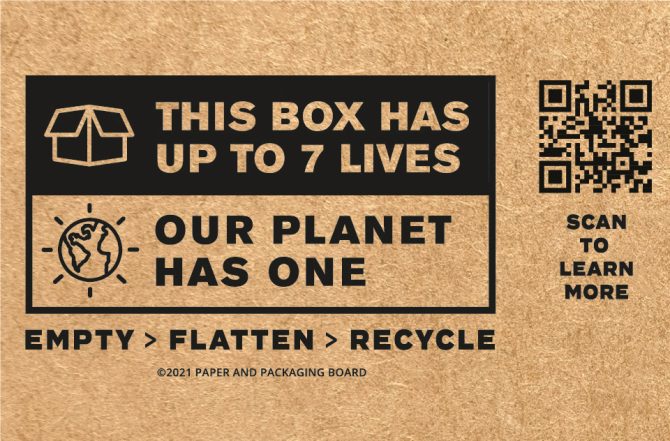 FOR IMMEDIATE RELEASE
For more information, contact us.
We are proud to cover the cost of printing this "How to Recycle" mark on corrugate shippers, to further encourage brands to take another step in their sustainability goals.
Bay Cities, North America's most innovative packaging and design company announces its NEW Box to Nature mark on corrugate, in conjunction with The Paper and Packaging Board, to be offered as an optional add-on and printed in-house. Developed by P+PB in collaboration with participating paper and corrugated manufacturing companies and industry partners, Box to Nature is an initiative where box manufacturers work with e-commerce brands to print a graphic on their boxes that encourages consumers to recycle.
Bay Cities will be covering the cost of getting this mark printed on shippers, further encouraging clients to take another step in their sustainability goals by educating consumers about how to properly recycle corrugate. We hope this will effectively change consumer behavior and help Mother Nature by showing them that they are part of the solution.
"Only 40% of the corrugated boxes shipped to our homes in America are getting recycled. This is essentially hampering our ability to produce new boxes from old boxes because we are not prioritizing breaking down these boxes and putting them in a recycling bin to further our sustainability desires," says Bay Cities CEO, Greg Tucker.
The implementation of the Box to Nature mark is part of a larger overall sustainability strategy to continue the circular economy and increase the number of corrugate boxes being recycled. The goal is to increase the estimated 40% residential box recycling rate (The Recycling Partnership) and recapture more fiber to make new paper-based products. Brands also get a positive lift in perception among consumers due to the association with their choice to use sustainable, recyclable paper-based packaging.
For more information on how Bay Cities is prioritizing sustainability as a leader in the manufacturing industry, visit our website.
About Bay Cities
For over 60 years, Bay Cities has been the leading creative packaging and display partner to brand marketers, retailers, and e-commerce companies using sustainable practices. Through innovation and creativity, Bay Cities has executed unique, eye-catching, and eco-friendly POP displays and packaging for major brands to be placed at retailers and online.
From concept to completion, Bay Cities is a brand partner with a strong understanding of major retailers, shopper marketing, and supply chains.
To learn more about our offerings, contact us. Sign up for our newsletter to stay up to date.