Savills Completes 150,000 SF Industrial Lease With Bay Cities in Santa Fe Springs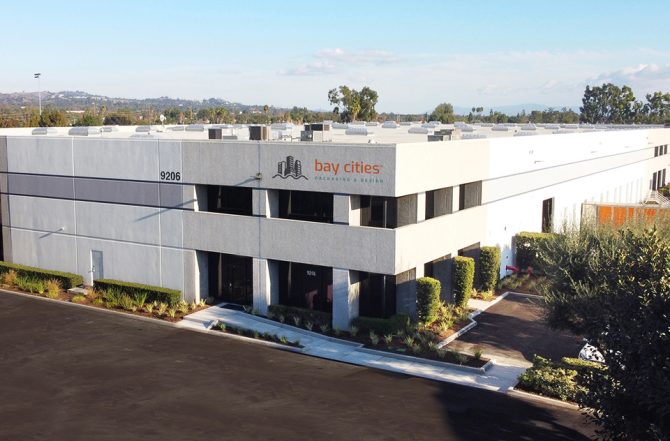 Media Contact:
Michael A. Lassiter
Vice President, Corporate Communications & Engagement
T: +1 202 624 8539
Bay Cities Opens New Packout Facility to build on expertise in pack out and fulfillment operations
LOS ANGELES – (December 16, 2021) – Savills announced that it completed a 150,000-square-foot lease relocation and expansion on behalf of Bay Cities at 9206 Santa Fe Springs Road, a second-generation, Class A industrial property in Santa Fe Springs.
Bay Cities, North America's most innovative packaging and design company headquartered in Pico Rivera, is the leading expert in pack out and fulfillment operations. With the addition of the Santa Fe Springs facility, Bay Cities' facilities now consists of over 700,000 square feet of combined space providing the ability to have 20 production lines.
Bart Pucci, a senior managing director specializing in industrial and creative office services at Savills, represented Bay Cities' in the 10-year transaction with options to extend. As a longtime advisor to the company, he has represented Bay Cities in its real estate decisions for over 25 years.
"This state-of-the-art facility for Bay Cities is ideally situated less than three miles from the company's headquarters, making it extremely convenient and desirable for its employees and client base," Pucci said. "After evaluating multiple properties in the area, as well as several build-to-suit options, we worked quickly to secure the space as soon as it hit the market. Given the warehouse shortage and the e-commerce boom, this was a fast-moving transaction, and the competition was fierce. But at the end of the day, we successfully negotiated a creative solution that will provide the space and power Bay Cities needs as it furthers its expansion in Southern California."
The Santa Fe Springs facility has 29 loading positions, 12 assembly lines and offers heavy power (2400 amps) and around-the-clock security. The services that will be provided are:
Pallet display pack out
Full POP display pack out, kitting, rework, labeling, sorting, bundling
Fulfillment
Assembly for products, packaging, and displays
Distribution and Cross Docking
The Santa Fe Springs facility will be certified and licensed for AIB GMP (American Institute of Baking), ABC (Alcoholic Beverage Control), FDA (Federal Drug Administration), California Department of Public Health – Certified Organic, Processed Food, Pharmaceutical Wholesale Drug Permit, and USDA Organic.
"This new facility in Santa Fe Springs, just minutes away from our Pico Rivera headquarters, will ensure efficiency and add to our outstanding ability to execute and deliver high-volume programs throughout the Southern California region," said Greg Tucker, CEO of Bay Cities. "Technologically-advanced capabilities ensure speed and accuracy in our expanding pack out and fulfillment facilities."
Bay Cities' expansion further solidifies the strength of Los Angeles' industrial leasing market. According to Savill's research, the vacancy rate for warehouse and distribution space is less than 2% in Southern California, which has been accelerated by the rise of e-commerce during the pandemic.
Oltmans Construction, the owner of 9206 Santa Fe Springs Road, was represented by Kevin Romano and Joe Maiolo of INCO Commercial Brokerage.
###
About Savills Inc.
Savills helps organizations find the right solutions that ensure employee success. Sharply skilled and fiercely dedicated, the firm's integrated teams of consultants and brokers are experts in better real estate. With services in tenant representation, workforce and incentives strategy, workplace strategy and occupant experience, project management, and capital markets, Savills has elevated the potential of workplaces around the corner, and around the world, for 160 years and counting.
For more information, please visit Savills.us and follow us on LinkedIn, Twitter, Instagram, and Facebook.
About Bay Cities
Bay Cities is North America's most innovative packaging and design company, providing integrated, end-to-end packaging, display, and logistics solutions that are proven to drive sales, both on-shelf and online. Powered by technology and the best people, Bay Cities works seamlessly with brands and retailers to design and deliver product packaging and in-store display programs with ease and accuracy. For more information, please visit Bay Cities' website at https://www.bay-cities.com/ and follow us on LinkedIn, Twitter, Instagram, and Facebook.