History: Innovations since 1956
Our innovations sell your product. Guaranteed!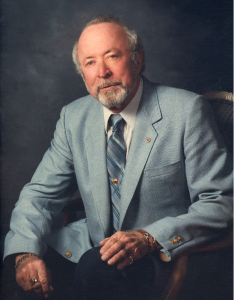 Bay Cities was established in July of 1956, in Los Angeles, by Mr. Bill Hanan, CEO and Founder. In 1946, Bill launched his sales career in the box business through Wilson Paper Company. He later moved to National Container as a commissioned representative, which later became Nekoosa Packaging.
During the time Bill was still affiliated with National Container, the plant had limited its mix to large quantities. To provide the smaller quantities, it was necessary to buy from other various sheet plants. Bill's customers wanted mill quality and the various sheet plants did not produce mill quality. It was for this reason that a manufacturing plant, Arrow Container & Packaging Corporation was formed in 1967, a subsidiary of Bay Cities. While associated with National Container, Bill became aware that many of his customers wanted more from a corrugated company than just brown boxes. They wanted supplementary packaging. After a brief period of time, during which he tried representing various folding cartons and specialty packaging items, he sensed there was a lack of coordination in providing these different packaging components. In order to satisfy the evolving needs of his customers, Bill formed Bay Cities Container Corporation.
The company moved to Pico Rivera, the present production plant location, in late 1973. The building was constructed in two phases of two 50,000 square feet increments. In 1986, Bay Cities established ESOP (Employee Stock Ownership Plan) through which the employees own stock in the company. At this time, Arrow Container & Packaging Corp. merged into Bay Cities.
As the company grew, the California economy became very anti-business. Many industries moved out in groves. In the early 90s, Bay Cities decided to refocus its efforts towards high end graphics. Bay Cities began to focus on four color flexo graphic printing processes and created one of the foremost graphic and structural design departments on the west coast. Coupled with the state of the art plant and supported client service, the company became an advertising agency with the support of manufacturing -all housed under one roof. In a continuing effort to meet client requirements, Bay Cities has continually upgraded its manufacturing equipment, using the most current, state-of-the-art computer technology for the corrugated industry.
Bill retired in 1999 upon achieving his goal of an employee-owned company. In 2000, the shares of the company were purchased entirely by the ESOP, including the 100,000 square foot plant and offices.
Bay Cities became the expert manufacturer and designer of point of purchase displays, retail packaging and industrial packaging in the last few years. In 2005, Bay Cities began its move into a 90,000 square foot facility next to the plant. The new building now houses general offices, state of the art warehousing, and a modern packout and fulfillment department to complement its product and service offerings. Bay Cities has also set up operations around the country and in China to better serve its ever-demanding clients. After years of change and progression, Bay Cities is now recognized as a national and global corporation.