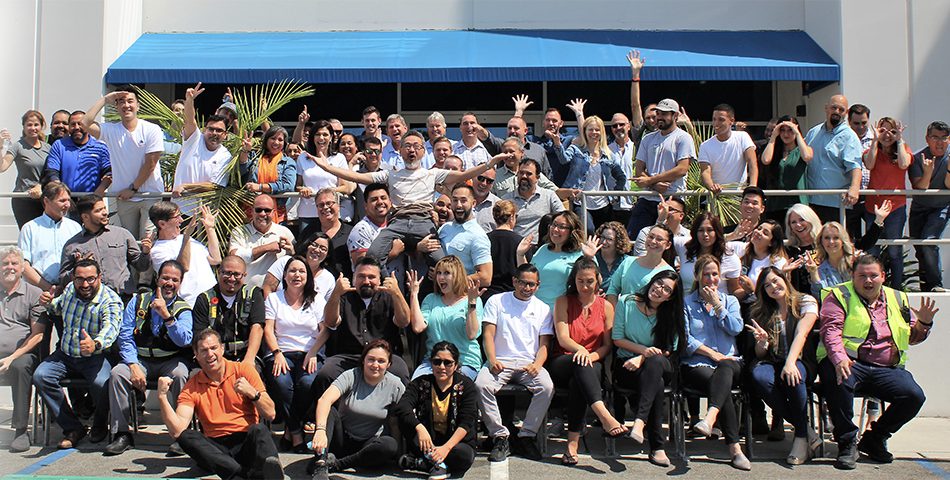 We are always looking for amazing and talented people who have an entrepreneurial spirit. More than anything, we are looking for our next business partner: people who act like they own the business, because we do.
At Bay Cities, we believe that you're interviewing us just as much as we are interviewing you. We feel there are 6 key factors to consider when selecting a company with which to partner. Since transparency is something that Bay Cities prides itself on, here's how we stack up in each category:
1. Leadership. Everything rises and falls with leadership. While we are owned by everyone, we have a small group of Executive Leaders who bring a wealth of business knowledge to the table. They are a collaborative group of leaders, who have the best interest in our business and in every Employee Owner. At the top of their game in their respective fields, they're committed to mentoring, teaching and collaborating with not just individuals on their team but with everyone that seeks their guidance. They're always open to and encourage new ideas. They have an open-door policy and you'll never hear things like "well this is how we've always done it."
2. Integrity. Not only do we care about our customers and every one of our Employee Owners, we also care about making an impact outside of our company. We are committed to being kind to our planet through sustainability and recycling programs and projects. We are involved in the community and are giving back with outreach programs like food drives, charity donations and volunteer opportunities.
3. Product. To us, corrugate is everything. It is a product that is in high demand and continues to grow year over year. In fact, boxes touch everything from food, to clothing, to toys and so much more. Bay Cities not only offers products and services that are in demand, we're setting the standard in our industry and continue to raise the bar.
4. Rich & Robust Benefits. We understand that our employees' lives encompass much more than the time they spend at work. To help maintain a healthy work/life balance, we've compiled a generous benefits package: medical, dental, vision, short and long-term disability, life insurance, flexible spending accounts, 401(k), paid time off, paid holidays, and referral bonuses. We have unique benefits, like our comprehensive wellness programs which include wellness fairs, health screenings, free flu shots, and more. In addition to that, we are an employee owned company, which means that we literally pay you to own a piece of our company.
5. Technology. We spare no expense when it comes to making sure we have the latest and greatest in equipment and IT infrastructure, to offer our clients the best product in a timely manner for the best value.
6. Timing. Even though we've been around since 1956, we're just getting started. Our Employee Owners get the "big corporate" experience without getting lost in the crowd. We promote a work hard, play hard culture, and strive to build a sense of camaraderie and belonging among all our employee owners. At Bay Cities, you're not just a number. But don't take our word for it, peruse your way around our site and experience it for yourself!
Culture. The Bay Cities culture is unique. We have a vibe that is incomparable to the rest of Corporate America. Why? Because we own it. Everyone that works at Bay Cities has an entrepreneurial mentality. We all really love what we do, and we have a lot of fun doing it. We truly have a culture where everyone is excited to come to work every day. There are many things that Bay Cities does to show its employees they're valued—company picnics, birthday & anniversary celebrations, contests, wellness programs, event lunches, BBQs, bowling, Day at the Races and the Ball park, ice cream treats and much more!
Joining our team: The hiring process is your opportunity to learn about the Bay. It is your opportunity to ask questions about the position, our culture and what it is like to work here. We offer straightforward answers, so you can learn if Bay Cities is the right fit. We employ a rigorous hiring process to determine technical ability, core values, and competency levels to ensure that your personal goals align with our corporate strategies. Our interview process is usually a 2 to 4 step process depending on the nature of the position.
Onboarding: To help you integrate into the organization, you'll attend our comprehensive on-boarding training program taught by our company leaders and managers.
Career Development: We cultivate growth from within. Most of our Employee Owners, from recently started to experienced, have been here for most of their career and have been, and are, given a multitude of opportunities. We offer a variety of ways to learn and grow. We encourage participation in programs that align with your personal career goals. From day one, all Employee Owners are given the opportunity to take ownership of their work and are encouraged to stretch their skills and capabilities.
Internship Program: Want a sneak preview of what it means to work at Bay Cities? Are you intrigued by the possibility of charting your own career path? Do you seek to move beyond mere theory to make a lasting difference? Do you consider team work an opportunity for personal growth? If so, we encourage you to apply for an internship position at Bay Cities. College Juniors and graduating Seniors are encouraged to apply for our highly coveted and sought-after internships. We like to treat our internship program like a minor league team. We groom you and we teach you. You are working on real-life projects to get the real Bay Cities experience and the life of a Bay Citizen.
Not ready yet?
At Bay Cities, we believe timing is everything. If you are not quite ready to apply or if we don't have a need for your skillset yet, please "opt in" to stay in touch with our company. Learn about upcoming events, new job openings etc. We look forward to building a future collaboration with you.