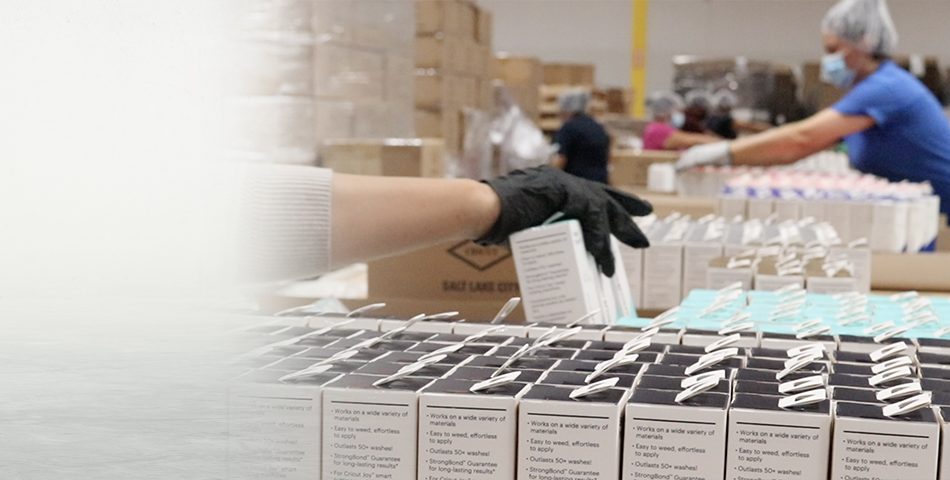 We are a leading expert in packout and fulfillment operations. Brands and retailers call on us for projects ranging from small to large and when the most challenging manipulations need to be configured. With locations in the Los Angeles and Chicago area, we have the option to run multiple programs at the same time and close to each retailer's distribution centers and warehouses.
Our facilities consist of:
650,000 sqft. of combined space
> 96 loading docks
> 20 production lines
2 climate-controlled rooms.
We can run multiple shifts per day. All our facilities are under 24 hours security monitoring, allowing us to run sensitive programs with high dollar value products like phone cards and electronics.
Packout and fulfillment
We receive and ship multimillions of units and thousands of pallets each year. Brands send us their products direct from their vendors, even if overseas (Direct Import), and we pack it out in our designed and manufactured displays. A display can contain one or multiple brands. Once packout is completed, we ship it straight to the retailer relieving you from inventory and shipping.
Services we provide are:
Pallet display packout
Full POP display packout, kitting, rework, labeling, sorting, bundling
Assembly, which can include products which need to be temperature controlled (e.g. chocolate)
PDQ / Tray packout
Pass Through programs
Direct Imports (DI) programs
One of the specialties we provide, and are extremely competent with, are the so-called Pass Through Programs. A very complicated and time-consuming process, which takes very large amounts of discipline to manage and be successful with. Here we purchase a multitude of products from different suppliers that are all sharing space on a pallet display or train. A retailer can only receive different products on one display if we create baby UPC codes for each item. This process involves the supplier's cost of goods and the retailer's sale price imbedded into the UPC. Item Creation is a very specialized process. All of these (babies) are placed on the pallet display which is then given a single UPC number. Once the UPC or pallet display is scanned and received at the warehouse or store level the babies are activated and their revenue is realized at the register.
Kitting and Sealing
We offer 4 types:
Cold sealing – through our patented trap pack BayPak. The material can be recycled, it has a large area for graphics and has a strong bond for theft deterrence.
Heat sealing. The material can be recycled, it has a large area for graphics and has a strong bond for theft deterrence. Great option for phone cards.
RF sealing. Good option for theft prevention. The material cannot be recycled, and the graphics area is relatively small.
Blister sealing. Good for high volume, low costs items. The technique is becoming obsolete and the material cannot be recycled.
Serialization
Serialization is the process of converting an object into a stream of bytes to store the object or transmit it to memory, a database, or a file. Its main purpose is to save the state of an object to be able to recreate it when needed.
We can give each item a code or serial number that defines its chain of custody through our process. It also helps at a retail level because when bundles or sales kits are sold at retail many times the retailer sells them as one kit. What happens if one of the items in the kit has a failure and needs to be returned? The process of serialization allows the manufacturer to segregate the items realized at retail and treat each one as its own.
Traceability
We will track your product from receiving through shipping. This will give you and us the ability to verify the history, location, or application of an item by means of documented recorded identification. For some industries this is a requirement like food, pharma and cosmetics. It is also required in case of product recalls and for manufacturing and quality control.
Each product we receive, we inspect and count randomly for verification. Then we assign a Work in Progress (WIP) inventory load tag and place them into WIP inventory. The load tag carries the lot information from the supplier, so we can track through our consumption program what is pulled from WIP inventory, processed and placed into the package. The package becomes a new item with its own UPC number and it can be sold at retail. When we finish building, we move the items to finished goods and we create a Certificate of Conformance (C of C). This certificate memorializes which lots of each product are in the kit and the Julian (birthdate) number of the kit.
Technology
Our enterprise software is based upon a consumption process that allows us to track what we buy, process, place into finished goods inventory, ship and convert into revenue. Because of this consumption process we can even trace lots of corrugated sheets back to the different forests where the very roll of paper used to make the sheet was created from.
We use a warehouse management system to control everything from when a lot comes in, when we consume it, put it in inventory and ship it. Serialization requires yet another software system that can segregate and further control various lots.
Bayview is Bay Cities' custom, proprietary client portal, which grants customers access to their programs 24/7 during execution. With Bayview we offer:
Immediate access to copies of proof of delivery
Insight into the progress of your program execution
The ability to route PO's on your behalf to Walmart and Sam's Club
Access to load maps and view real time status updates.