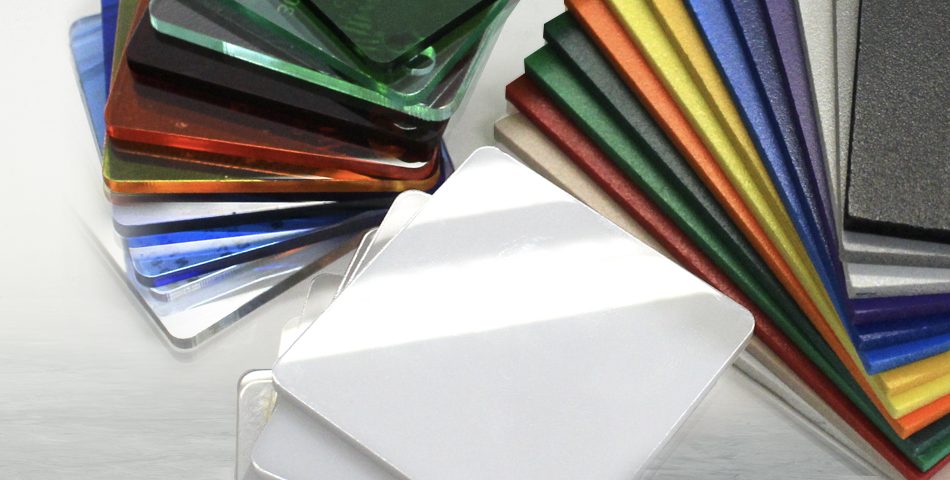 Our materials have expanded from corrugated to semi-permanent and permanent substrates for POP displays, packaging and signage. These dynamic materials allow us to create the POP display, retail signage or outdoor signage that will best feature your brand and products. From paper-based to wood to foamcore, the different attributes of these signage or display materials indicate the perfect environment and usage as a complement to your shopper marketing and branding efforts.

Acrylic
A transparent, thermoplastic, permanent material that can be used for signage or displays. This highly durable, plastic-based material is most commonly used as acrylic table signs or as an accent structure for POP displays or as a counter display.
Available in clear, colored, gloss, matte, frosted or mirror finishes
Great for indoor retail environments or lobbies
Mostly features print on the back

Corrugate
Corrugate is our standard paper-based material for POP displays, packaging and signage that features fluted paper and linerboard. We are able to print white on kraft or brown corrugated material to highlight art and graphic outlines for special occasions or product promotions. Cardboard packaging and cardboard POP displays use the popular, semi-permanent corrugated material in merchandising displays throughout retailers.
Available in matte, kraft or white finishes
Sustainable material that can easily be renewed and recycled
Can print one-sided or two-sided

Falcon Board
This paper-based, eco-friendly material features two white paper faces attached by a honeycomb paper core. The honeycomb paper core is a series of hexagonal-shaped cells nested together that creates the sheet when they expand. This material can be rigid or lightweight and can be contour cut for the structure desired in the indoor POP display or signage.
Available in matte, kraft or white finishes
Structurally stable product that comes in a variety of thicknesses
Can print one-sided or two-sided

Polyvinyl Chloride (PVC)
The world's most used plastic polymer is an especially durable and versatile material perfect for permanent, indoor POP displays or signage. PVC signage material can be an alternative to other plastic-based materials on the market.
Available in matte, black, white or limited color finishes
Used in retail environments
Can print one-sided or two-sided

Styrene
A transparent thermoplastic that is thinner than PVC and can be rigid or light. Recommended for indoor usage, this material works for POP displays and signage that need a supportive, but flexible material.
Available in black or white finishes
Durable for permanent displays and signage
Can print one-sided or two-sided

UltraBoard or Gator Board
UltraBoard is a semi-permanent material called polystyrene foam that features styrene liners. This substrate is similar to foam board, however, it features a high impact plastic surface instead of a paper-based surface. UltraBoard stays flat due to being more rigid than foam board.
Available in matte, black or white finishes
Relatively lightweight
Can print one-sided or two-sided

Foam board (Foam Core)
A temporary material called polystyrene foam with an outer face made of paper on each side. This lightweight material is perfect for indoor signage or an accent header for a POP display.
Available matte, black or white finishes
Versatile usage in retail environments
Can print double-sided

Paper
The most common substrate used, paper allows for more printing and graphics options than permanent materials. Most commonly used for signage such as posters in the retail environment or to promote events. Paper packaging is sustainable and great for smaller products.
Available in matte, satin or gloss finishes
Great for quick, temporary brand or product messaging
Prints one-sided

Aluminum (Dibond)
This silvery-white metal can feature vibrant artwork and withstand outdoor environments. Weather-resistant, this very durable substrate can be configured for signage or as a header for a POP display.
Available in metallic, white or brushed aluminum finishes
Capable of lasting for years
Prints one-sided

Medium-Density Fibreboard (MDF) Wood
This extremely durable, engineered, composite material is very structurally-sound. The wooden substrate works great as an accent to signage or POP display headers.
Available unfinished
Eco-friendly with a smooth face and visible wood grain
Prints on vinyl or other substrates that are mounted onto the wood

Vinyl – Banner or Self-Adhesive 
A strong and flexible plastic that is used for signage. Great for outdoor retail environments and window signage, this substrate can be bannered or self-adhesive. Custom vinyl banners can feature different finishes for eye-catching texture.
Available in matte, gloss, satin or super smooth finishes
Cost-effective for temporary signage
Prints one-sided or used to mount onto other substrates

Mako-Board™
Mako-Board™ is two-sided, coated board is 100% fiber-based and functions as an eco-friendly, recyclable alternative to plastic. The stiff, paper-based substrate can be featured in moisture-sensitive environments that would require signage such as outdoor retail environments or the produce section at retailers.
Available in a white finish
Last in moisture up to 12 weeks
Can print one-sided or two-sided