Bay Cities Executives to Speak on Panels at 2019 EPACK Summit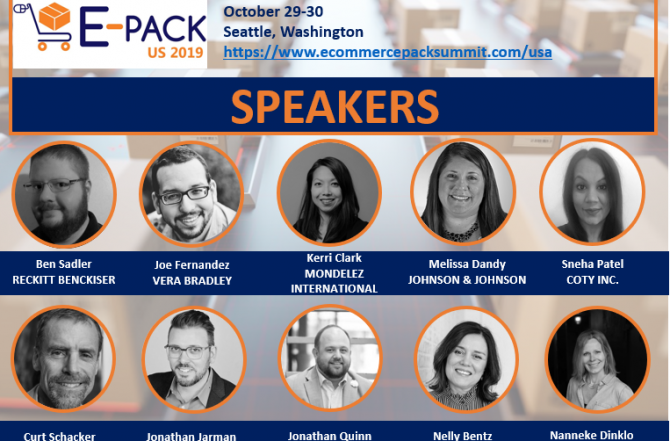 NEWS RELEASE
FOR IMMEDIATE RELEASE
For more information, contact us.
Bay Cities team to discuss unique opportunities in e-commerce packaging
PICO RIVERA, CA, Oct. 23, 2019:Bay Cities CEO Greg Tucker is a panelist on Day 2 of this year's E-PACK Summit to be held October 29-30, 2019 at the Hyatt Bellevue, WA. The summit brings together brand owners, retailers, packaging converters, equipment and software suppliers to discuss advancements and challenges faced by those providing packaging for e-commerce.
Tucker's panel is entitled The Future of E-Commerce Packaging. Bay Cities Sr. Director of Marketing and Branding Nanneke Dinklo will participate on a panel entitled CPG & Retailers Discuss Challenges for e-Commerce on the first day of the event.
Over the course of two days, attendees will have the opportunity to network with representatives from across the e-commerce packaging value chain.
Industry report forecasts predict that the demand for e-commerce packaging will grow rapidly in the coming years, expanding at an annual growth rate of 14.3% from 2017 through to 2022. Some of the packaging sectors that can expect to see growth include corrugated packaging, flexible packaging, protective with transit packaging reaching almost $55 billion in 2022.
Both Tucker and Dinklo's panels will address the rapidly evolving nature of e-commerce as a sales and delivery channel that makes e-commerce a highly attractive area of the global packaging industry, with brands, logistics companies, conventional and online retailers, converters and material suppliers ramping up to provide solutions and services in this growing sector.
Also fueling growth is a global environmental sentiment that is driving change in the nature of more ecologically friendly packaging used for e-commerce. The complexity of the supply chain puts higher demands on the durability of the packaging, while retailers also face a hugely competitive market where packaging is increasingly important as a means of product differentiation and brand recognition.
The two-day E-PACK event will encourage dialogue between packaging converters and packaging design firms on the challenges of staying competitive in the online retailing space, and how the packaging industry can collaborate during this transition.
"Retailers need to win online and on shelf and the packaging industry needs to be on top of e-commerce needs, as those are different from traditional brick and mortar packaging," said Greg Tucker, CEO. He continued, "New manufacturing techniques enabled by digital printing are at the forefront of this process in a new world of customization, environmental awareness and faster turnarounds."
To learn more about Bay Cities please, contact us.
Sign up for our newsletter to stay up-to-date.
###
About Bay Cities
Bay Cities is North America's most innovative packaging and design company, providing integrated, end-to-end packaging and logistics solutions that are proven to drive sales, both on-shelf and online. Powered by technology and the best people, Bay Cities works seamlessly with brands and retailers to design and deliver product packaging and in-store display programs with ease and accuracy.
###
Visit us at Bay-Cities.com.