Bay Cities Holds Open House and Ribbon Cutting in Bentonville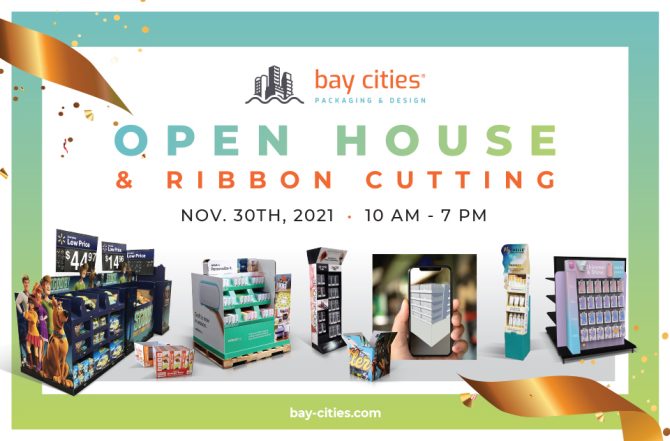 FOR IMMEDIATE RELEASE
For more information, contact us.
Immersion into innovation, programs, and products
PICO RIVERA, CA, November 22, 2021: Bay Cities, North America's most innovative packaging and design company, today announces their Open House and Ribbon Cutting on November 30, 2021, at their new offices in Bentonville, AR.
The Open House will include a tour where participants will:
Experience emerging technologies in the innovation center, designed to challenge brands to stay relevant in the fast-paced everchanging economic and retail landscape
Explore Bay Cities' manufacturing, data management, supply chain, and logistics capabilities
Engage in conversations with subject matter experts from branding, marketing, design, pack-out, and supply chain to fully understand the comprehensive execution of successful Retail Display Campaign Programs.
For more than 60 years, Bay Cities has been the leading creative packaging and display partner to brand marketers, retailers, and e-commerce companies. With expanding offerings to serve brands and retailers, the need for collaboration, speed to market, and innovation has become crucial to the unparalleled success of Bay Cities' customers. With a goal to bring retailers, brands, and suppliers together to innovate and execute, the offices will be used to bring visions to life.
"We are excited to host our customers, partners, and the community at our offices for an immersion into our services and products and to experience our emerging technologies in our new innovation center," said Chad Sadler, General Manager Bentonville.
The event takes place on November 30, 10am – 7pm CST:
Tours:                                    every 15 minutes
Ribbon Cutting:                  1:15 am – 11:45 am
Cocktails and Music:          5 pm – 7 pm
The offices are located at 3607 SE Metro Parkway, Bentonville, AR 72712.
To sign up visit bay-cities.com*. For those who can't come in person, there is an option to sign up for a virtual tour.
*Must be 21 or older to attend. In accordance with Bay Cities' duty to provide and maintain a safe workplace for all employees, vendors, visitors, customers, guests, and the community, we comply with CDC guidance on all COVID safety standards to include masking and social distancing. All visitors will be required to provide proof of vaccination or provide a negative covid test dated within 72 hours of the event.
About Bay Cities
Bay Cities is North America's most innovative packaging and design company, providing integrated, end-to-end packaging and logistics solutions that are proven to drive sales, both on-shelf and online. Powered by technology and the best people, Bay Cities works seamlessly with brands and retailers to design and deliver product packaging and in-store display programs with ease and accuracy.
###