Significans Automation Enters Software Market with the Development and Launch of Virtual InkBooks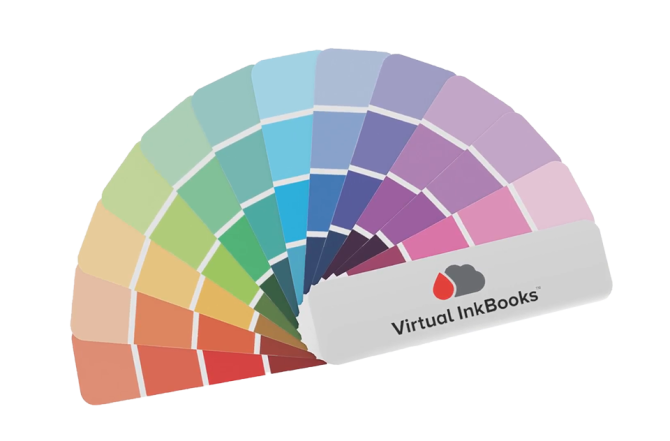 NEWS: Significans Automation Develops Virtual InkBooks for Custom Ink Libraries
NEWS: For Immediate Release
Significans Automation Enters Software Market with the Development and Launch of Virtual InkBooks
February 11, 2022
Significans Automation Inc., a leading provider of integration and automation solutions for the graphic arts industries, has made its first foray into software development with the launch of Virtual InkBooks™, a powerful color management tool for creating Cloud-based custom ink libraries that can be tailored to any job.
Designed to work in conjunction with Esko's WebCenter and Automation Engine, Virtual InkBooks™ enables users throughout a printing or packaging operation to view Pantone and custom ink libraries in real-time, and allows production teams to easily customize and record job-specific ink data in the Cloud. These libraries can be used for repeat work downstream or across multiple jobs or output devices, reducing make-ready costs and improving and augmenting color consistency across multiple platforms.
According to Marc Raad, CEO of Signficans Automation, the entry into the world of software development was a natural progression for the company, which has enjoyed a tremendous track record of improving production efficiencies and automating workflows for its clients throughout the Americas.
Custom Ink Library Video
https://significans.com/virtual-inkbooks/
"In fact, Virtual InkBooks™ was first conceived after a conversation with one of our packaging clients, Bay Cities, which expressed a desire to reduce the variables, manpower, and costs associated with managing color consistency, particularly with re-orders," explains Raad. "Over the next couple of months we worked closely with Bay Cities to develop a solution to address these specific needs, and the result was a robust piece of industry software."
Headquartered in Pico Rivera California, Bay Cities is a leading expert in printed corrugated displays and packaging operations. With the addition of Virtual InkBooks™, the company is now able to track and accurately reproduce colors.
According to Bay Cities' Director of IT and Automation, James Hawton, the company needed to make it easy for designers and pre-press staff to enter the color data in WebCenter to ensure it could track its colors and accurately reproduce them again on future orders.
Hawton explains: "A lot of times when you go to press, you still need to make tweaks to hit a specific color as closely as you can, and the biggest problem you run into is how to store what you've done on that specific machine after the initial run is complete."
"With Virtual InkBooks™ we now have a specific location where we can store the color information and the LAB values that we worked on for a particular machine to get the result that we wanted," adds Hawton. "So now whenever any graphic artist is going to work with that color, they will be working with the same variable. Significans Automation really delivered a great solution for our needs."
The software allows users, regardless of their location, skills, or printing application, to easily:
Mix and match Pantone and custom colors;
Enter color data in LAB or Spectral formats;
Save and reuse libraries for future projects;
Export libraries to Adobe Illustrator;
Enjoy the benefits of cloud-based remote access.
According to Andreu Carroll, graphic designer with Bay Cities, prior to the completion of the software, the information for custom brand colors would often be lost from project to project because too much time had elapsed, or new people weren't aware that a custom color had already been created, or someone may have given a newly created brand color an odd name that made it difficult to know what brand it belonged to.
Carroll explains, "Now that we have Virtual InkBooks™ it helps prevent the graphic artist from having to recreate custom brand colors each time, and it streamlines the naming convention, saving design time, and improving our turn arounds on color management."
Based on the success of the Bay Cities pilot and initial feedback from others who have tested the product, Raad says that Significans Automation is planning to develop more software tools to round out its offerings and help customers further improve efficiencies throughout their organizations.
About Significans Automation (www.significans.com)
Significans Automation Inc. specializes in delivering next-generation automation to the Printing and Packaging industry. The company offers programming and expertise in custom workflow development, communication and project management, color management, prepress training, and end-to-end business integration. The company is driven by the conviction that customized automation is the only path forward.
About Bay Cities (www.bay-cities.com)
Bay Cities is one of North America's most innovative packaging and design companies, providing integrated, end-to-end packaging, display, and logistics solutions. Powered by technology and the best people, Bay Cities works seamlessly with brands and retailers to design and deliver product packaging and in-store display programs with ease and accuracy.
                                                                                                                                                                        — ### —
Copyright 2022 — All brand names are the property of their respective owners and may or may not be trademarked.
Media Contact
Marc Raad
CEO
Significans Automation
1-877-463-4465