Bay Cities Brings Home 2 Silvers and a Bronze at 2022 OMA Awards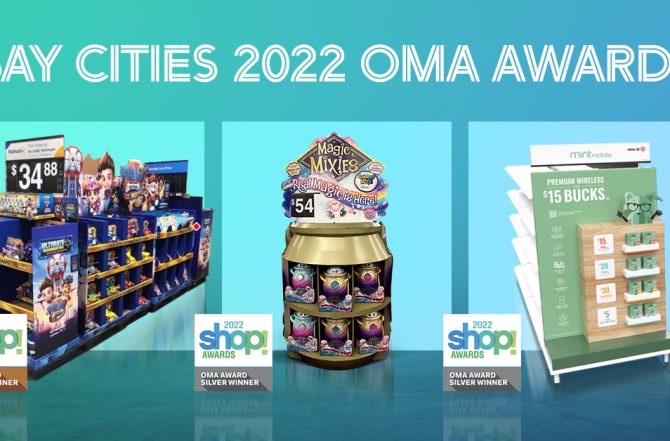 FOR IMMEDIATE RELEASE
For more information, contact us.
PICO RIVERA, CA, July 18, 2022: Bay Cities, North America's most innovative packaging and design company, today announces their wins at the 2022 Outstanding Merchandising Achievement (OMA) Awards! Bay Cities entries competed in various categories including Entertainment, Games, and Toys, as well as Snack Products. The Mint Mobile Target Endcap and Magic Mixies Full Pallet both took second place (Silver). The Walmart Paw Patrol Movie Pallet Train (a collaboration with Saatchi x Saatchi) took third place (Bronze). Bay Cities is beyond ecstatic about these wins, as we continue to be recognized for our high-quality design, manufacturing, and retail knowledge in this industry.
For over 60 years, Bay Cities has been the leading creative packaging and display partner to brand marketers, retailers, and e-commerce companies. Through innovation and creativity, Bay Cities has executed unique, eye-catching POP displays and packaging for major brands to be placed at retailers and online.
"These awards recognize the tireless support we deliver to our Clients with regard to creativity, manufacturing expertise, fulfillment excellence and logistic knowhow. Bay Cities' employee owners set the bar for our industry as we drive to help our Clients "win at retail" everyday!" said Greg Tucker, CEO.
From concept to completion, Bay Cities is a brand partner with a strong understanding of major retailers, shopper marketing, and supply chains.
To learn more about our offerings, contact us. Sign up for our newsletter to stay up to date.
About Bay Cities
Bay Cities is North America's most innovative packaging and design company, providing integrated, end-to-end packaging and logistics solutions that are proven to drive sales, both on-shelf and online. Powered by technology and the best people, Bay Cities works seamlessly with brands and retailers to design and deliver product packaging and in-store display programs with ease and accuracy.